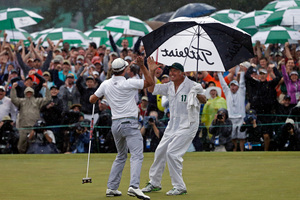 From the last few days of sport, I wish and hope that:
•Steve Williams would get back with Tiger Woods. Okay, I know it ain't going to happen, but this is a wish list. Kiwi Steve's impressive caddy record was enhanced by Adam Scott's breakthrough Masters triumph.
World golf could do with Tiger firing again - the game isn't the same since he was doused by a fire hydrant. Rather than putting or ball striking or (yeah right) not knowing the rules properly, Williams is the missing ingredient. Tiger without Williams is like Bogie without Bacall, fish without chips, Nisbo without a cliche. Williams is considering retirement, but one last blast with Tiger should be his departure gate. Williams oozes confidence, which is probably the secret to his success. Getting back with Tiger would be a controlled experiment to judge how vital he was to Woods in the first place.
•Tiger had disqualified himself at Augusta after a rule transgression.
He might have been okay to play on a TV-related technicality, but he did the game and his reputation no favour by playing on.
•Commentators would stop saying that without the two-shot penalty, Tiger Woods would have been in the Masters hunt. No one knows how he would have fared from the correct drop point.
•Sanzar's rugby inquiry considers awarding the win points to the Crusaders because of a pitch invasion by spectators during their two-point loss to the Force in Perth. The game should be replayed, but that's not possible in the high-travel Super 15. The match was halted with a clear, if long range, scoring opportunity for the Crusaders in the 76th minute. I'd go as far to say that they would certainly have scored, and gone on to win the game. At the very least, the Force should have their win points deducted.
•America would reconsider its War on Terror attitude after the Boston Marathon tragedy. We don't know who the perpetrators are, but as the so-called leader of the free world, the US needs to understand its own contribution to the violence that is being visited upon its people. As the highly respected linguist Noam Chomsky argues, the American Government is actually a leading terrorist state. These bombings will lead to renewed and ultimately futile manhunts and security proposals. I don't wish to diminish what happened in Boston, and we will hear all about it for days and weeks and months. But America might contemplate the pain it has caused to innocent people elsewhere, a pain that struggles to make the fine print in a world dominated by American media power and culture. America might also ask why people - including some of its own citizens - are so angry. We are going to hear a lot of emotional and political reactions, without the necessary look at historical and underlying causes. Security can't be ignored, but it isn't the total answer or even morally correct. Unfortunately the Boston nightmare will only harden America's ill-directed resolve.
•The Aussie league clubs would take tests seriously. Question: if the Roosters were playing a grand final this weekend, would Sonny Bill Williams have been ruled out by knee therapy? Answer - ask yourself. SBW's club-induced withdrawal from Friday night's test in Canberra has just about ruined the contest for me. The Kiwis are lambs to the Cameron Smith-led slaughter at this time of year. SBW would have made a huge difference, to the excitement around the build-up and the game itself.
•Sports people would stop begging for Halberg awards. Dillon Boucher went down this line after the Breakers' wonderful, third consecutive ANBL basketball title. Yes, the Breakers deserve a nomination, but I wouldn't think winning a fairly small Aussie club competition, and one of dubious strength, would qualify as a Halberg winner. There is way too much fuss about the Halbergs - an exercise in comparing apples and oranges. But on a point of order, Boucher claimed there was no World Cup this year. There is of course a league World Cup and the All Whites can qualify for the 2014 Fifa World Cup against the fourth seeds from Concacaf. Both are more important than the Aussie club basketball.
•Piri Weepu reclaims the test No9 jersey as his own. Weepu has brilliant nuances to his game - he's always reminded me of the great league hooker Cameron Smith in the way his touches get his side going forward. Weepu is central to the Blues alleged revival.
•The Blues loose forward Steven Luatua stays on the boil. Luatua has got star quality because he plays on instinct in the regimented age ... watching him with ball in hand is one of rugby's true pleasures right now. I haven't been so excited about a new Auckland rugby prospect since spying Sione Lauaki. As for the Blues, though, don't get too excited, troops. Despite the scoreline they were fairly awful against the Hurricanes, which doesn't say much for the lifeless Hurricanes. The Blues' ball control was shocking.
•I could think of something encouraging to say about the Warriors.