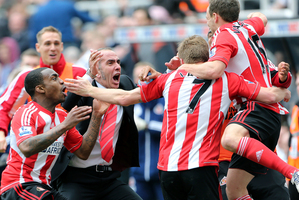 Newcastle fans fought running battles with mounted police as English football, already scarred by Sunday's Wembley disorder, was gripped by violence again yesterday.
Twenty-seven fans were arrested and at least three police officers were injured following Newcastle's 3-0 home defeat to bitter rivals Sunderland.
Police said they were pelted with missiles as they clashed with Newcastle fans attempting to confront Sunderland fans at the railway station.
The violence came 24 hours after 14 men were arrested when Millwall fans fought amongst themselves in the dying moments of their team's 2-0 defeat to Wigan in the FA Cup semifinals at Wembley.
After yesterday's Premier League game at St James Park, police also said smoke canisters had been set off.
But they stressed that it was only a minority of hardcore fans involved.
"The most serious incident involved a group of Newcastle fans in Central Station attempting to confront Sunderland supporters, but they were intercepted by officers from British Transport Police," said a Northumbria Police spokesman.
"During this incident missiles were thrown at the officers, which resulted in three injuries to officers, one of them requiring assessment at hospital."
Video footage showed masked fans taking empty glass bottles from a bin and throwing them at police.
- AFP