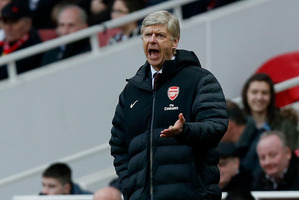 Arsenal manager Arsene Wenger is confident his side are on course to claim their usual place in the Champions League.
That was very much in jeopardy just a few weeks ago but yesterday's 3-1 victory over Norwich City saw the Gunners leapfrog London rivals Chelsea and Tottenham into third place in the English Premier League table.
Four league fixtures, plus a Champions League game in Germany against Bayern Munich, have been won since Arsenal lost 2-1 at Tottenham on March 3, a result that left the Gunners trailing their north London rivals by seven points.
Wenger was quick to point out that only after 38 games will the table reveal its true meaning, but was nonetheless delighted with his players, who overturned a 1-0 deficit with just five minutes remaining against the Canaries.
"At the moment, the position is not important," he said.
"What is important for us is to keep our run going and the consistency of our wins. At the moment, the position has no real meaning. It is really tight, and the team who is the most consistent will get there.
"At the moment, we have that consistency, so we want to focus on that. We have another big game on Tuesday night and have a good opportunity that we want to take."
That is another home fixture, against Everton, and Arsenal will also have played at Fulham by the time Tottenham, who were not in action this weekend, play again.
The door is therefore very much open for Arsenal to finish above Tottenham, just as they did last season when their neighbours were also in a strong position going into the final band of fixtures.
Chelsea are also involved in the Europa League semi-finals and an FA Cup run that has reached the semifinal stage.
-AAP