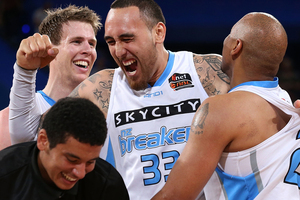 The Breakers are enjoying their own rush at the moment after their historic basketball three-peat. A couple of them got a taste of life in the fast lane when they descended on the V8s Supercars at Pukekohe this afternoon.
Dillon Boucher, Tom Abercrombie and assistant coach Dean Vickerman were helicoptered into Pukekohe Park Raceway moments before the start of today's first V8 Supercars race, and were greeted by cheers from the big crowd. They walked down pit lane and checked out some of the V8 Supercars and mingled with drivers as they lined up on the starting grid.
Boucher wouldn't exactly call himself a petrol head but admitted he enjoys driving fast. It has been a whirlwind last couple of days for the Breakers, after they beat the Wildcats in Perth on Friday night to secure their third-straight ANBL title, and Boucher was soaking up the royal treatment today.
"We flew in in a chopper, so I couldn't be happier right now,'' said Boucher, who retired on Friday night. "The royalty treatment is always good for a couple of days and then it's back to reality.''
The trio, along with Boucher's son Jayden, flew back to central Auckland in time for a gathering with fans at Sky City.
- APNZ