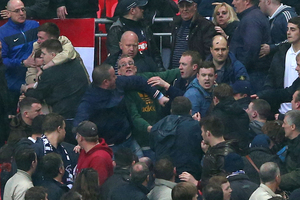 Fighting broke out amongst Millwall fans towards the end of their 2-0 FA Cup semi-final loss to Wigan at Wembley on Saturday.
Police with batons moved in to quell the trouble in an eerie reminder of the scourge of hooliganism that once plagued the English game.
The trouble, which left many young children in the stands in tears, came on the weekend of the 24th anniversary of the Hillsborough disaster.
One Millwall fan was spotted on TV, snatching a police officer's helmet and smilingly tucking it inside his jacket.
"I didn't see it. I need all the facts and information before I form an opinion,'' said Millwall manager Kenny Jackett.
Wigan boss Roberto Martinez criticised the feuding fans.
"It is disappointing,'' said Martinez.
"It was an exciting game and there was plenty to concentrate on.''
London club Millwall had long been associated with violence and hooliganism in the 1970s and 1980s but had been making strides to combat the problem.
The incidents sparked an immediate furore on social media.
"As for those morons we've just seen scrapping in the stands, no one likes you, we don't care,'' tweeted former England striker Gary Lineker.
Former Wigan striker Jason Roberts also condemned the violence.
"What makes me sad is that it drags the good name of football down. It was a small pocket of people but it looked so bad for our game, which has done well to combat violence in the last 30 years,'' he told the BBC.
-AAP