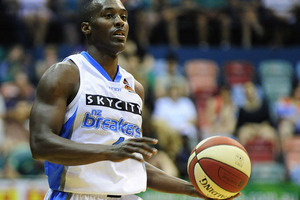 Cedric Jackson may have played his last game for the Breakers after confirming interest from at least six NBA teams, but the club have plans to persuade him to stay.
The guard scored 14 points and sunk two clutch three-pointers in the final four minutes of the Breakers' championship-winning victory in Perth, before being named the most valuable player of the grand final series.
Following on from his regular season MVP, Jackson has conquered the Australian NBL and will now attempt to revive his American dream. The 27-year-old has had short stints with three NBA clubs in the past and he will attempt to make it back to the best basketball league in the world when he plays in the NBA Summer League in July.
Following yesterday's victory, Jackson said he had been in touch with as many as six NBA franchises, including the defending champion Miami Heat.
Although Jackson would never turn down an offer from an NBA team, Breakers general manager Richard Clarke said the club would make an attractive offer of their own, including the chance to play international basketball with the Tall Blacks.
"We'll put in front of him what it looks like if we offered him a long-term deal, with the view of him naturalising and playing world championships and Olympics.
"But, realistically, his vision is to go to the NBA."
Jackson played in the Summer League last year and came close to earning a contract with the San Antonio Spurs. He hopes to find a team with a similar environment to the Breakers.
"They're my family away from home. I love these guys - I've been with them all day, every day for eight months.
"If I'm here next year or if I'm on another team - whatever happens - I just want to be blessed to be on a team that's like the Breakers."
Jackson said he was inspired to win the championship for another departing Breaker, the retiring Dillon Boucher.
The 37-year-old bows out having won 13 titles in two national leagues and, with Mika Vukona in foul trouble overcame illness to tough out 28 minutes.
"It was great that we could get Dillon out on a good note," Jackson said.
- APNZ