Trainer irked Black Caviar will not step out until final race, when track will be at its worst.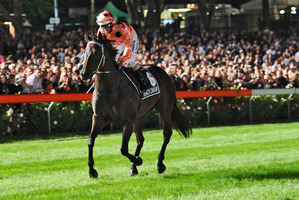 Australian mare Black Caviar won the 25th consecutive race of her illustrious career, breaking out of a tight pack about 500 meters from the finish to win the 1,200-meter T. J. Smith Stakes on Saturday by two lengths.
Before a capacity crowd of 25,000 at Royal Randwick, Black Caviar, with regular rider Luke Nolen aboard, went off at odds of about $AU1.15 to pay on a $AU1 wager in the $AU1 million race.
It was the six-year-old sprinter's third win since coming back from an eight-month injury layoff in February and an Australian-record 15th Group One victory overall.
Black Caviar narrowly won the Diamond Jubilee Stakes at Royal Ascot, England, on June 23 of last year and faced possible retirement after tearing a quadriceps muscle at Ascot. But laser therapy and exercise enabled her to return to the track for another season.
"She's a special horse and words escape me,'' Nolen said. "I'm not a wordsmith or a very well-educated man by any stretch but she totally touches me.
You can see what she means to racing and to be a part of it just blows you away.''
Black Caviar increased her career earnings to more than $AU8 million.
Trainer Peter Moody said before the race that he would not rule out future Australian races for Black Caviar in Adelaide and Brisbane or a return to England.
- AAP