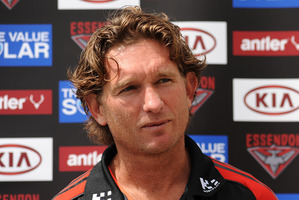 Essendon coach James Hird says he won't stand aside despite AFL chief executive Andrew Demetriou saying he should consider it while his club's doping affair is fully investigated.
"I won't be stepping down ... I'll get ready for the game," Hird said, adding he was not annoyed by Demetriou's comments.
Hird has been accused by former Essendon sports scientist Stephen Dank of injecting hexarelin - a growth hormone-releasing substance which is banned for players, though not for coaches.
He also been accused of being well aware of the club's controversial supplement programme under Dank - a program being investigated by the Australian Sports Anti-Doping Authority (ASADA).
Hird has vowed to clear his name over the allegations.
Demetriou told Melbourne radio station 3AW yesterday that Hird should consider standing aside, then returning to the job if cleared.
"As he goes through his thought process ... that is an option he has to consider," Demetriou said.
"He has got an outstanding position in this game. He's been a wonderful servant to the Essendon Football Club, an ornament to AFL football.
"He's entitled to be able to put his position forward, which he will get the opportunity [to do] next week with ASADA.
"In the interim, those are the things that will have to cross his mind when he's contemplating what he's going to say to ASADA."
Demetriou stopped short of saying he'd prefer Hird to step aside.
But he said he was disappointed with the allegations which have engulfed both Hird and Essendon - admitting the more he found out in briefings about the issue, the more concerned he became.
"You can't help but be disappointed, particularly as you find out more and understand more about what was going on," Demetriou said.
"You'd appreciate I've got briefings that are more advanced than what's in the public domain. I think it's terribly important that we now get the investigations finalised quickly.
"Then we can get to the truth."
Allegations surfaced on Thursday that Essendon players were injected with substances to enhance their performance and well-being - including bizarre concoctions including pig's brain and bark extracts.
News Limited reports yesterday said Hird would admit to receiving two injections from Dank - both for health reasons - believing they were legal amino acids.
It said Hird would tell that to ASADA when he met with investigators next week.
Demetriou also shrugged off the possibility of any widespread issue with on-the-edge supplement use in the AFL, saying Essendon was the only club causing concern.
- AAP