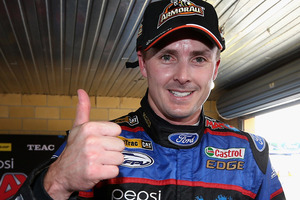 The last time the V8 Supercars raced at Pukekohe, Jamie Whincup remembers sitting in the pits for two hours while a fence was fixed and a photographer taken off to hospital.
V8s Supercars returned to Pukekohe Park Raceway today for the first time since 2007 and, for most of the drivers already trying to get to grips with the new Cars of the Future, it was a case of reaquainting themselves with the character of the circuit.
Whincup did that better than most, posting the second fastest time in practice today. The four-time V8s Supercars champion rounded the 2.91km track in his Red Bull Racing Holden Commodore VF in one minute 2.7069 seconds but was 0.0151 behind pacesetter Mark Winterbottom in his FPR Ford Falcon FG.
New Zealand's Fabian Coulthard, who won two races at Tasmania last weekend, was third fastest in his Brad Jones Racing Holden but less than half a second separated the top seven drivers. Shane Van Gisbergen was quickest in two of the four practice sessions but his best lap was fifth fastest overall.
Promising young Kiwi Scott McLaughlin continued his good form to be sixth fastest but Jonny Reid's difficulties continued as he trailed the field in 27th. He at least finished all four sessions, with veteran Russell Ingall spinning off the track at turn two and ploughing into the wall - he got the car back to the pits but didn't feature again.
It promises to be a good battle between the Aussies and Kiwis over the nest two days and there is added spice with the Jason Richards Memorial Trophy up for grabs for the first time, which is named in honour of former V8 Supercars driver Jason Richards who died of cancer 16 months ago at the age of 35.
The Nelson-born Richards last raced for Brad Jones Racing and Coulthard would love to collect the trophy for his team.
"Jason played an instrumental part at Brad Jones Racing,'' he said. "It would be nice if we could take it there but, if wasn't me, then if Brighty (teammate Jason Bright) could bring it back to [our base at] Albury it would be pretty awesome.''
Tomorrow's action will see two qualifying sessions in the morning, followed by the Top 10 Shootout and two races of 100km each. There are two qualifying sessions and two more 100km races on Sunday.
Qualifying times were about seven seconds slower than when the V8 Supercars last visited in 2007 but that is down to two extra turns at the end of the back straight. It still has the bumps and fans will hope the drivers will be able to add the grind over the weekend.
"It's been a while but as soon as you do that first lap, you remember the bumps that are there at the last corner and at turn one, but it's always a good fun place,'' Winterbottom said. "I enjoy this place more than Hamilton, the way the circuit is. I'm happy we're back. It looks on paper easier than what it is. It's a really tough track.''
It's one Coulthard enjoyed considerable success on as a junior and he knows he also needs to cash in on the fact he has a quick car early in the season.
"We are all still battling with the challenges of the new car,'' Coulthard said. ``All the cars are becoming more and more competitive each round we just have to maximise a good car while we've got it.''
- APNZ