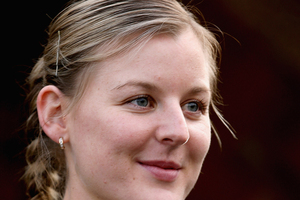 Katrina Grant isn't used to meeting women taller than her. The 25-year-old Central Pulse goal keep stands at 1.86 metres.
But for the second time in three weeks, Grant will be tasked with trying to keep a towering Jamaican shooter from putting a round ball through a 3.05-metre high hoop when the Pulse host the Southern Steel in Palmerston North on Sunday.
In round two of the ANZ Championship, Grant tussled with 1.95m Queensland Firebirds goal shoot Romelda Aiken but her assignment this weekend has a few extra centimetres.
Steel shooter Jhaniele Fowler is the tallest player in the transtasman netball league at 1.98m and is making a splash in her first season downunder.
In three games she has sunk 150 goals at the impressive rate of 91.5 per cent and set a new benchmark for a single game in the competition when she made 65 from 70 attempts in her second outing as she single-handedly outscored the Canterbury Tactix in the Steel's 75-56 victory.
Grant's success against Fowler will be influenced more by her team-mates rather than what the Silver Fern can do.
"The hardest thing is probably that height difference. The fact that I don't think I can jump 13 centimetres higher than her - that's an issue - her arms are quite long,'' Grant said of her opponent.
"I think she can even just stand and reach the rim but it's pretty tough. What I'll have to do is make sure everyone outside me is doing their job and then they've got the ball before it even comes near me which would be quite helpful.
"The centre, wing defence and goal defence have to do a real good job outside of the circle of blocking vision, keeping away from the circle edge, just to make that pass hopefully a little bit off centre. If it's a little bit skewed then I have at least a chance of going for a pass that's not quite on target and I think that's pretty much my only option.''
When the Firebirds beat the Pulse 58-56 in round two, Grant said they gave too much space to Queensland goal attack Natalie Medhurst, which meant she could easily find Aiken so shutting down the Steel's circle feeders will be their key job on Sunday.
There's a new feel in the Pulse camp this week after they managed their first win of the campaign with a 55-49 victory over the NSW Swifts in Wellington last Monday.
It wasn't a perfect performance but they showed better resolve as they didn't give away their half-time lead which they had done during their first two games, which both turned in to losses.
"I think relief was the main feeling,'' Grant said. "We've got such a good team on paper and we haven't quite put together a full game in the first two weeks so getting that first win was a relief.''
Grant is one of five Pulse players who have turned out for the Steel before, alongside Donna Wilkins, Liana Leota, Paula Griffin and Te Huinga Reo Selby-Rickit, while coach Robyn Broughton is part of Southland netball folklore.
Despite that history, Grant said this weekend's game didn't serve as a grudge match.
"We definitely want to get one over them, there's no doubt and if you've played for a team you always want to beat them again but I haven't played for them for four years so it is quite distant. Obviously there's Donna who lives down there and Robyn who's from down there, but no one ever likes to lose a game so it doesn't matter who we play, we want to win.''
Grant just has a tall task in front of her to help make it happen.
- APNZ