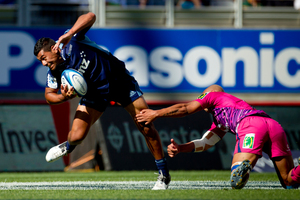 No one should have any doubt about the value of television match officials in the Super 15 series.
Presumably, spectators at the ground or in front of the gogglebox and the TAB want a game controlled properly without dodgy rulings deciding results.
If they can all see an incorrect decision with significant consequences, then the referee, his assistants and the TMO should get a chance to review their judgment.
Just think a certain Rugby World Cup quarter-final in Cardiff and the forward pass fallout in that failure.
Had referee Wayne Barnes or his touch judges Tony Spreadbury and Jonathan Kaplan got a better vibe about that drama, a TMO analysis would have been invaluable.
Kaplan and Steve Walsh made extensive use of the TMO in the latest Super 15 round because they were unsighted about incidents in the previous two phases.
On one occasion, TMO Ben Skeen weighed in.
The rise in inquiries had a few barking about the intrusion but who would grumble and why? It might upset broadcasting schedules or the delivery of dessert at some sporting dinners but the delay is minimal.
Walsh's cluster of referrals was complicated by the lengthy delay to attend to the head injury to Buxton Popoali'i. The repeat views and TMO verdicts did not create much of a wait.
Some will see regular use of the TMO as a weakness from referees, a cop out and a rejection of their duty. They will argue that part of rugby's charm is the human error.
It might have been when steam radio was the only way of finding out about a rugby match.
The advent of television and its continued excellence in production has given all of us a chance to look much closer at the game and see in greater detail what is happening.
Extensive camera angles allow us to get a great gauge on a forward pass, a knock on, offside, illegal tackle or some type of obstruction - all of which can impact on the validity of scoring a try.
Cameras with telephoto lenses are at a variety of fixed positions on a ground while steadycam operators roam the sidelines. Meanwhile, three men wearing pink sprint back and forth on a 100m sporting arena hoping they are in the right place and get the correct view of every incident while avoiding 30 competitors.
You know they don't; Super 15 rugby is way too fast for three men to adjudicate. The top men do a fine job and usually cop some raspberries. They are either masochists, deaf, have 4cm-thick skin or really love the exercise, wages and travel.
They need help and those without overriding egos will ask for that. Players often try to deliver that guidance but as Walsh and Kaplan found out, when in doubt ask the TMO. That's experience and sensible, and stops my mates throwing beer cans at my TV.