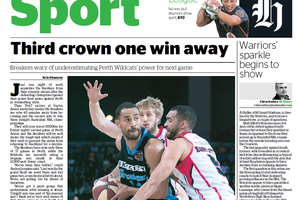 A brief look at the sports stories that are making news this morning.
In the paper
Breakers take game one
Just one night of work separates the Breakers from their dynasty dream after the defending champions opened their grand final series against Perth in dominating style.
What now?
The great rivals will now travel 5000km for Friday night's second game at Perth Arena, and the Breakers will be well aware the tough task which awaits if they wish to prevent the series from returning to Auckland for a decider.
Fuming van Dyk says Fever 'got away with murder'
Magic sharpshooter Irene van Dyk hit out at the rough-house tactics of the West Coast Fever defenders following her side's 57-51 loss in Perth.
She said it:
"I've been playing netball for a very long time, and I can honestly say I have never come across a defensive pair that are as physical and get away with murder," the 40-year-old said.
Warriors' sparkle begins to show
Matt Elliott's Warriors were hot and cold in defeat against South Sydney but at least they sparkled at times, writes Herald sports columnist Chris Rattue.
The bad news
The Warriors' third defeat of the season means they now sit on the bottom of the NRL table.
Overnight news
Chelsea move into third with win
Another vital day of matches in the English Premier League. Chelsea came from behind to beat Sunderland 2-1 at Stamford Bridge, denying Paolo Di Canio a sensational start in his first game as a Premier League manager. The win moved Chelsea ahead of Spurs who drew with Everton. QPR meanwhile look likely to face the drop after a draw with Wigan.
What about Manchester?
The Manchester derby kicks off tomorrow morning as City look to at least cut United's mammoth lead to 12 points.
Kiwis in top 10
New Zealand duo Danny Lee and Tim Wilkinson have both finished in a tie for 10th place at the Brasil Classic on the web.com Tour, seven behind off the leader.
Raiders comeback stuns Roosters
Canberra centre Jarrod Croker held his nerve to steer the Raiders to a remarkable 24-22 comeback victory over the Sydney Roosters at Canberra Stadium on Sunday.
Down but not out
The Raiders fought back from a 16-0 at halftime to record the biggest NRL comeback of 2013 while the round five loss ended a three game winning streak for the Roosters.
Also making news...
Faumuina ruled out for Blues season
Coulthard rules in Tasmanian V8s
City topple Waitakere to head group
By the numbers
217 Lydia Ko's three-round total at the Kraft Nabisco tournament in California. It leaves her 14 shots off the lead, held by South Korea's Inbee Park going into today's final round.
23 The number of Bundesliga titles won by Bayern Munich, after a 1-0 win at Eintracht Frankfurt yesterday.
3 The number of games Serena Williams dropped to sister Venus en route to the Family Circle Cup final in Charleston. The 6-2 6-1 dumping was the most lopsided game between the sisters in their WTA careers.
Quote of the day
"We all have to have a good game of football. That's all of us."
Parramatta coach Ricky Stuart includes himself in the recipe for success in the NRL for his battling side after their 13-6 win over the Sharks.