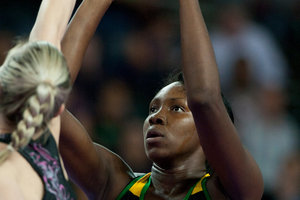 The Southern Steel have slipped back to earth after the heights of last week, losing 60-54 against the Adelaide Thunderbirds in Invercargill this afternoon.
The Steel shared bottom place in last season's ANZ Championship with the Canterbury Tactix, but last week earned a rare victory against their southern neighbours.
That win broke an 11-match losing run but the Steel were unable to back it up today, dropping their record to one win and two losses in the new campaign.
The hosts held a five-goal lead at the first break, but the Thunderbirds came roaring back with a dominant second quarter in which they restricted the Steel to just eight goals.
The Steel slowly chipped away at Adelaide's eight-goal halftime lead but could never quite close the full distance, eventually falling by six goals.
Jhaniele Fowler, who last week broke the competition record with 65 goals, again led her side but the Jamaican's 41 goals from 45 attempts couldn't prevent defeat.
- APNZ