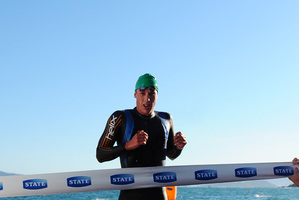 Two Australians have taken out the State Ocean Swim Series with contrasting victories in the final round on Auckland's North Shore.
Needing to beat Rotorua's Kane Radford to win the series and take home $20,000, Ky Hurst has sprinted to victory in 32 minutes and 21 seconds.
Taranaki's Dylan Dunlop Barrett has finished second in the race, just one second behind, with Radford four seconds off the lead.
Ky Hurst says his experience helped him beat Radford for the title.
"You know Kane today, exceptional, and to tell you the truth I feel really bad for passing him at the finish because it is an open water event but this run is very long as well and I was quite confident.
"I knew as soon as you get to the beach, I knew I'd get him on the sand."
Melissa Gorman has blitzed the women's field, finishing just nine seconds behind the men's winner to also take $20,000 back across the Tasman.