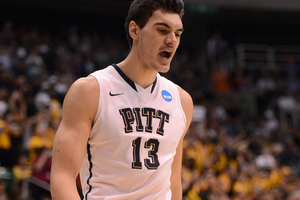 New Zealand basketball player Steven Adams announced today that he will declare for the NBA draft in June.
After insisting that he would return for his second year at Pitt, Adams has changed his mind and will sign with an agent, thereby forfeiting his final three seasons of college eligibility.
The 7-foot center announced his intentions today in a statement released by Pitt's athletic department.
"In discussing options with my family and Coach Dixon, I feel that it is in my best interest to declare for the NBA Draft," Adams said. "I want to thank everyone at Pitt, including my teammates, coaching staff, the administration and the fans who have all supported me over the last year."
Before his freshman college season, Adams was rated as a possible top ten NBA draft pick, but has slipped down the rankings due to some indifferent form throughout the year. He is still expected to be drafted in the first round.
Adams was named the Big East's preseason Rookie of the Year and was selected to the conference's All-Rookie team after averaging 7.2 points a game and leading the Panthers in blocked shots (65), rebounding (6.3) and field goal percentage (.571) in 32 starts.
The Panthers reached the NCAA basketball championships last month before losing to Wichita State 73-55 in the opening round. Adams led the side with 13 points and 11 rebounds in the defeat.
"After talking with Steven and his family, we fully support him in this decision," Pitt coach Jamie Dixon said in a statement. "We support him in choosing to pursue his dreams and in having the opportunity to provide for his family back in New Zealand. We will continue to stay involved in the process and he will always be a part of the Pitt Basketball family."

The 2013 NBA Draft is scheduled for June 27 at New York's Madison Square Garden.
If drafted, Adams -brother of Olympic gold medallist Valerie - would become just the third New Zealander to play in the NBA. Sean Marks was drafted by the New York Knicks in the 1998 second round and played for six NBA teams before retiring after the 2010-11 season, while Kirk Penney had two games for the Heat in 2003/04 and then four for the LA Clippers in the 2004/05 season.
-nzherald.co.nz