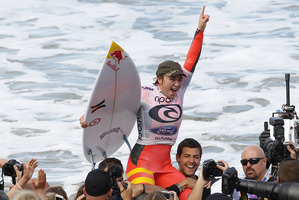 For most of the Rip Curl Pro women's surfing final won by Hawaii's Carissa Moore yesterday, the only energy in the water was surface tension.
Moore and Australian teenager Tyler Wright spent much of their 35-minute final waiting anxiously for a wave.
Bells Beach had turned into a lake, and the nerves bubbled below for both surfers.
Moore's big 9.57 out of 10 ride in the opening few minutes proved critical - the only ride in the final which scored above six points.
"I was looking over at Tyler and saying 'where are the waves?'," Moore said of a 25-minute lull in which the surf completely flattened out.
"The ocean stopped working. It was nerve-wracking.
"I really thought we would be going at it head-to-head. It didn't work out that way."
Moore, 20, beat Wright with a combined score from their two best rides of 15.40 to 8.00 - the 19-year-old NSW surfer's hands tied by the lack of surf. Once Moore posted a 5.83 very late in the heat - after almost giving away wave priority which would have proven suicidal - Wright had no time or waves to hit back.
Moore takes over the world No 1 ranking from Wright after winning two of the three finals this year.
The Hawaiian, who won the 2011 world title, is now in a great position to win a second world crown after a forgettable 2012.
But after a Rip Curl Pro in which five-time world champion Stephanie Gilmore and fellow Australian star Sally Fitzgibbons bowed out in the quarter-finals, Moore is mindful the depth in women's surfing is the best it's been.
"Having a good start to the season is really crucial. But all the girls are surfing really well," said Moore, who also defeated Wright in the final of the Margaret River event last month.
"The Saturday here is probably the best day of surfing I've ever seen. I can't wait to see what happens the rest of the events."
Lennox Head surfer Wright, who has made the first three finals of the year, is also in the sort of form to suggest a world title may not be beyond her.
"I hope everyone enjoyed the show," Wright said of a week in which 10s and sundry nine-point-plus scores have featured.
It is Moore's first Bells win.
She made the final in 2011, but lost to Fitzgibbons.
- AAP