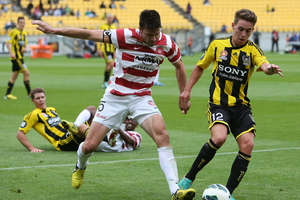 The old question of who deserves to be named champions has again become the topic of conversation across the Tasman as the top six A-League clubs prepare for the playoffs.
Some claim that all the glory should be with the team which wins the April 21 grand final while others insist that in winning the premiership - the 27 rounds of the Hyundai league - Western Sydney Wanderers are already the champions.
The first past the post system finds favour with the traditionalists who point to the English Premier League. Imagine asking Sir Alex Ferguson to put his Manchester United team back out for a couple of extra games before he could call his team the winners.
That six teams in a 10-team league get to play in the season finale weakens any reason to finish the season with such a game.
That a team like the Wanderers, who have enjoyed a fabulous debut season winning 18 of 27 games and losing only six, has to now go into a playoff which includes Perth Glory who won only nine surely undermines the need for playoffs.
As has been mooted in New Zealand, where the ASB Premiership champion is found in a one-off final as opposed to the league winner, soccer bosses across the Tasman could, if they are hellbent on having a showpiece end to their season, put up a $50,000 winner-take-all prize for a season finale.
It is interesting that in a season notable for the introduction of three high profile marquee players, only one will be involved in the playoffs.
Shinji Ono, 33, has been key to the Wanderers' success this season and has the opportunity to add to his already glowing CV if the Tony Popovic-coached team win their remaining two games.
Alessandro Del Piero (Sydney FC) and Emile Heskey (Newcastle Jets) have the rest of the season off after failing to make the top six - Sydney missing out to Perth on goal difference and Newcastle a point back in eighth.
Three of the teams still alive are going into the playoffs without the coaches who started their respective campaigns.
Mike Mulvey has replaced Rado Vidosic at Brisbane, Michael Valkanis took over from John Kosmina at Adelaide and Alistair Edwards is now at Perth in place of Ian Ferguson.
The playoffs begin on Friday with the first of two elimination finals when Melbourne Victory host Perth Glory. On Sunday, Adelaide United are at home to Brisbane Roar.