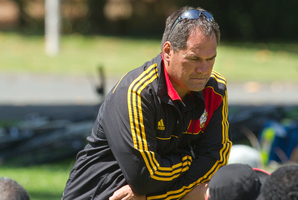 The Chiefs, a team so annoyingly playful before Dave Rennie arrived, have built a ruthless streak. All power to the Chiefs and in particular their coaches and other influential team figures who have turned this once misfiring outfit into a rugby powerhouse, virtually overnight.
The Chiefs, a team so annoyingly playful before Dave Rennie arrived, have built a ruthless streak. As for the Blues though, forget all the early season PR and the misleading 23-16 scoreline at Mt Maunganui because they were about as bad as they've ever been.
Coach Rennie in particular, plus Wayne Smith, Tom Coventry, Liam Messam, Craig Clarke, Tanerau Latimer, Aaron Cruden, Richard Kahui or whoever - take a bow. Those of us who doubted that Rennie's ground-breaking, debut, title-winning season could be matched need convincing no more. Whatever the final result this year, the Chiefs are the real deal.
The performance of the weekend belonged to the amazing Crusaders, who won in South Africa despite defections so bad they were rank outsiders against the Stormers.
Todd Blackadder's Crusaders struggle to match the glories of old, but their core of toughness and resilience remains as a foundation for future success.
Such is the modern analysis, player movement and training techniques that when added to Super rugby's exhausting and uneven travel factor, there may never be a Crusaders-type dynasty of Super competition winners again. But there is still a hierarchy and the Chiefs have shed their excuse-laden past and planted themselves in the upper echelon.
A hare and tortoise did battle at the Mt Maunganui raceway on Saturday night. The Blues were demolished - rarely can a close rugby scoreline be so misleading. At no point did they appear capable of winning.
The loss of Sonny Bill Williams shaped as fatal to the Chiefs' game and it has been to a degree, because their structured attacks don't always fire as they might. But the relentless defensive commitment, technique and aggression - a sure sign of spirit and clear-headed organisation - is almost faultless to a point they relished the Blues having the ball.
The Chiefs were a black and yellow tide rolling in, knocking over sandcastles, although a mysterious gravity pulled them back, leaving the dominant team all at sea when in sight of the Blues' goal line.
Rennie will be frustrated with that - they should have have won by a good 25 points or so. The Blues were average to barely okay - they created only one scoring chance and couldn't adapt to a Chiefs tactic that was, quite literally, in their face. To pick on one point, while Ali Williams remains noticeable, I feel the energy has gone from his game, and that's not great for the captain.
But the lack of an overall strategy, or ability to carry one out, was the key point. The Blues were making it up as they went along.
Initial over-optimism about Sir John Kirwan's mob has - surprise, surprise - faded after three successive defeats. The Kirwan-Sir Graham Henry factor garnered a lot of goodwill, and fair enough because they are Auckland rugby greats and Henry a coaching legend.
All is not lost - who knows what the future holds? But if one of Pat Lam's teams had played this badly he would be getting roasted.
The Chiefs smashed them up with a game plan revised after 2012 and while still suffering growing pains. They will be a heck of a side when they grow up.
In the meantime, the Chiefs are doing the business anyway. Rugby is a loose sport of intangibles - the little things that reveal rugby's crucial all-for-one and one-for-all attitude are hard to always pinpoint from the stands. But they make the difference, and the Chiefs seem to have an esprit de corps probably only seen before in the Crusaders and Brumbies.
Salute to captain ReidNew Zealand soccer doesn't often punch above its weight but it was exciting to see Winston Reid don the captain's armband for West Ham against West Bromwich Albion. We've had only a handful of players in the glamour English top division, and Reid - the new All Whites leader - and the great Ryan Nelsen have both captained teams.