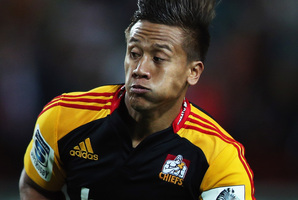 Tim Nanai-Williams is contemplating the luxury of two weeks off as he recovers from a groin injury which has hampered him since the start of the season.
The injury began last season and was an almost constant problem. This season it has been better, but sitting out tonight's match against the Blues at Mt Maunganui and the Chiefs' bye next weekend allows him to rest and get in some quality training.
Coach Dave Rennie has revealed that the little 23-year-old, who has been shining in the unfamiliar centre position this season, has not been able to do any speed work or leg weights for the past three weeks.
"We need to get a bit of speed work and sharpness into him," Rennie said. "We haven't been able to do that for the past three weeks. It's just in his best interests that we give him a rest and after the bye he's back where he was at the start of the season.
"He had it last season as well. It's not easy for these boys, they go straight from our campaign into the ITM Cup and then straight back to us."
Regardless, Nanai-Williams has been impressive. His try after skipping past Highlanders second-five Ma'a Nonu in the first game of the season would have piqued the All Black selectors' interest and he maintained his form despite the injury, though he appeared tired in the Highlanders rematch in Hamilton last weekend following the team's return from South Africa.
"He's really enjoyed it as well," Rennie said. "We're really happy with Timmy. He's a real threat with the ball, he's got great feet, he's good post-tackle and one of our best distributors so we're pretty happy with how he's going."
Rennie and the Chiefs are lucky Richard Kahui is fit enough to slot in for Nanai-Williams after his 30-minute stint off the reserves bench last weekend. Kahui not only adds size to the Chiefs' backline, he will also stiffen its defence against a Blues team boasting such threats as Rene Ranger and Charles Piutau.
More good fortune has come in the form of Brendon Leonard, fit again after a cheekbone injury and able to cover halfback following Tawera Kerr-Barlow's broken jaw.
Aaron Cruden's groin injury was improving, Rennie said, but Gareth Anscombe would take the goalkicking duties again. Rennie said he considered resting Cruden, who started every game for the Chiefs last season, but with fullback Robbie Robinson suffering a setback in his recovery from a foot injury, he decided to go with the status quo.
An interesting change comes in the replacing of flanker Sam Cane with Tanerau Latimer. This season Cane has started four matches of five, a turnaround from last year when Rennie preferred to start with Latimer, despite the now 21-year-old making the All Black squad.
"He's in the All Blacks, he's a better player now than he was this time last year," Rennie said of Cane. "His starts have been warranted based on his training performance and (the way he has been) playing. It's not easy for Lats either, he's pretty keen to start and he's been fantastic off the bench for us."
A victory for the Chiefs would strengthen their position at the top of the New Zealand conference and consign the Blues to their third consecutive defeat.
- APNZ