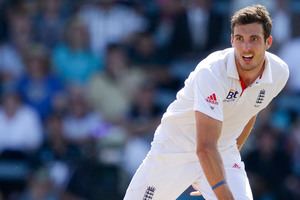 England bowler Steven Finn raised concerns about the join between the drop-in pitch and the outfield at the northern end of Eden Park after the second day of the final test against New Zealand.
Head groundsman Mark Perham rushed on during the final session when Trent Boult was bowling.
Boult waited while Perham prised back a flap of pitch with a spade and scooped what looked to be sand or dirt underneath to smooth out a bump.
Finn says: "We knew there would be a bit of a ridge there and unevenness. We also found that in the one-dayer and Twenty20.
"It's nothing we didn't anticipate but that's up to the groundsman [to fix], I suppose.
Finn noted playing on a single strip rather than a block of pitches was odd.
"Yeah, it's strange. There is a bit of a ridge around the wicket and it is different when batsmen hit into it. The ball sort of plugs rather than runs off.
"Getting the ball to reverse swing, which we have been good at, has been difficult with the lush nature of the outfield. It has been hard to get the ball rough on any side so it hasn't done much.
"So the drop in pitch has affected things but that's just the way it is and we have to deal with it."