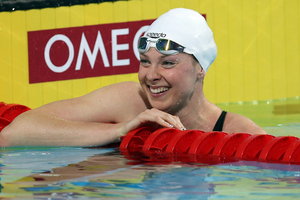 Lauren Boyle has produced another freakish performance on the penultimate night of the New Zealand Swim Championships in Auckland.
Boyle has smashed the field in the 800m freestyle, coming home in the world's fastest time for 2013.
It wasn't long before she was back in the water, setting a world championship qualifying time to win the 100m freestyle.
She says once she qualified in the 400m, she decided to challenge herself and swim in every event she was entered in.
Glenn Snyders has qualified in the 200m breaststroke, while Gareth Keen has also gone under the time for the 200m backstroke.