It is one of the statistical oddities of the transtasman league that each of the titleholders has failed to even make the finals the next year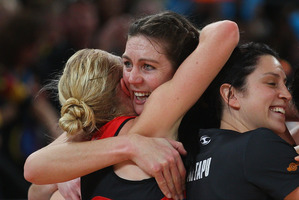 Irene van Dyk says just because no team has repeated as champions, it doesn't mean it cannot be done. Photo / Getty Images
Not even an hour had passed after the Waikato-Bay of Plenty Magic's stunning come-from-behind grand final over the Melbourne Vixens last year before talk of the transtasman league's premiership curse surfaced.
When asked at the post-match press conference if their breakthrough title win could be the beginning of a dynasty of sorts for the Magic, coach Noeline Taurua joked: "If we go by the history of things, we won't even be in the finals next year."
It is one of the more curious statistics of the transtasman league - each of the titleholders has failed to even make the finals the following year. The first couple of years it was considered an anomaly but after five years some are beginning to wonder if maybe there's a bit more to it.
Star shooter Irene van Dyk doesn't think so. She doesn't believe in sporting curses, she believes in the Magic.
"I don't believe in [curses] any more than I believe in statistics and win-loss records," the 40-year-old said. "We've been working really hard as a team to make sure we step things up again, and in the end that's what decides whether we go the way the other teams have after winning a title, not past results."
If any team is going to snap the pattern, you'd back the Magic.
Taurua's side made a habit of breaking new ground last season. They were the first New Zealand team to lift the trophy after four years of Australian dominance, the first team to come from fourth place to win the title and the first away side to win the grand final.
The Magic coach said last year's unconventional route to the title, in which they came from dead last after four rounds to scrape through to the playoffs and eventually claim the crown, taught her side that just because it hasn't been done before doesn't mean it can't be done.
"I quite like the way Laura [Langman] put it to the group - every team can write their own story," said Taurua.
"Prior to last year we did pay a lot of attention to the trends. For example, we believed we had to finish one or two if we wanted to win the comp, but we changed it. And I think that has really changed our mindset and opened us up to what's possible if you commit to working hard and being better than the previous week."
To ensure her side build from last year's win, Taurua ramped up the intensity of the team's preseason training this year.
There's been a strong focus on strength and conditioning, with the team incorporating wrestling and boxing into their training. The idea behind it is the disciplines require good core strength and body balance - something that is crucial for netballers in the increasingly physical league.
Looking at the team the results are obvious, with their core group of Silver Ferns - van Dyk, Casey Kopua (nee Williams), Laura Langman and Leana de Bruin - looking particularly fit or, as national coach Waimarama Taumaunu commented, "in great nick".
"It's been really hard, but we are all feeling the benefits of it," van Dyk said.
Taurua has also been impressed with the application of her new shooting recruit Ellen Halpenny. The young shooter has joined the Magic from the Tactix, in what was effectively a straight swap with Julianna Naoupu, who is returning to her hometown. Halpenny's development this season and how quickly she can slot into a new attacking line could be key to the Magic's success.
The 22-year-old was not a consistent starter for the Tactix last season, but as a member of the New Zealand accelerant squad, she is considered a strong future prospect. The national selectors will be watching closely to see how Halpenny's combination with van Dyk develops, and how the rookie copes under added pressure.
Van Dyk, who will be teaming up with her fourth goal attack in six years, believes the new combination is coming along nicely.
"Every time we've trained it feels better and better," she said. "It's great to get a chance to develop another combination - I think it keeps me fresh and helps me keep evolving my game because every goal attack you play with is so different. I'm looking forward to seeing what we can do this season."