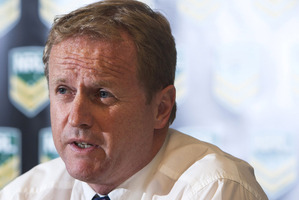 Asada has turned its investigation from NRL clubs to players, with 31 individuals to be issued notices this week that they are required to be interviewed by the anti-doping body.
In a significant development in the drugs scandal, NRL chief executive Dave Smith yesterday said clubs were no longer the subject of investigations regarding systematic doping, outside of the probe into practices at Cronulla in 2011.
The investigation process is to take four to six weeks, after which the Australian Sports Anti-Doping Authority will inform the NRL whether any infraction notices need to be issued.
"Asada has informed the NRL that aside from some well-documented concerns at Cronulla, its clear focus is now on whether individuals - or groups of individuals - may have acted outside of club programmes," Smith said. "This is not about clubs.
"The fact that Asada will issue notices of interview does not mean players or officials are being charged.
"The investigators have pointed out the request to interview does not mean those people are under direct suspicion."
Players will be required to co-operate with Asada interviewers under the NRL's code of conduct.
About 10 former players will also be part of the Asada investigation, though the NRL is powerless to punish any players not registered with the code.
Notices will be issued over the next few days, with the interview process to begin on Monday.
The investigation
* 31 players will be issued with a request to be interviewed by Asada.
* Asada informs the NRL if it has an anti-doping case.
* NRL issues infraction notice to any player believed to be guilty of a doping offence.
* Player is stood down by NRL.
* Player attends NRL tribunal, where a decision on guilt and punishment is made.
* Player maintains right to appeal any decision to Wada.
- AAP