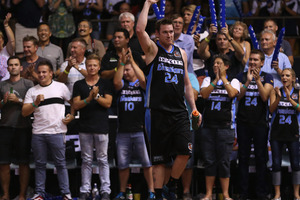 The Breakers' exceptional regular season draws to a close this weekend but coach Andre Lemanis is wary that their 16-game consecutive win-streak could easily count for nothing.
The Breakers face the Wildcats in a dead-rubber season finale in Perth on Friday night (midnight NZT) before hosting their first playoff semifinal at Vector Arena next Thursday against a yet-to-be decided opponent.
The rivalry between the Breakers (24-3) and the second-placed Wildcats (21-6) has developed into a fiery one, and neither side will be willing to budge or concede a psychological edge with a potential grand final meeting in the near future.
Lemanis said there was no better preparation for the playoffs than playing Perth in Perth and rejected the idea of resting any of his front-line players for the long trip.
"The rhythm of playing is important,'' Lemanis said. "We've just played three games in eight days and I thought we got better through each game during that period. So to sit people out in this game I don't think is smart for us.''
Lemanis said the Breakers never reflect on their run - which has equalled the second-best win streak in Australian NBL history - and instead focused on the importance of getting better every day and with every game.
"Everyone's talking already as if both Perth and the Breakers have made the grand final. There's still a semi to get through, and at that stage your regular season record gets thrown out.
"It's who can win two out of three games and that's where our focus needs to go as soon as we're done with this Perth game. Then what was done in the regular season counts for nothing.''
Lemanis will have the full services of forward Mika Vukona, who has recovered from a minor ankle tweak last week but import Will Hudson will not travel. He trained for the first time today after injuring his knee in February.
Hudson is making good progress and will remain in Auckland to undergo intensive training in an effort to have him fit for the playoffs. The American is excited at the prospect of getting back out on the court after a tough rehabilitation process.
"When I first got injured, I didn't know if I would have a chance to get back by the end of the season or even playoffs,'' Hudson said. "Just the constant grind of doing three [sessions a day] with rehab, lifting and pool workouts in the afternoons. It's been tough, but now I'm so excited. It's just made me hungrier.
"I have to trust myself again. It's no longer an issue with the ligaments. It's now all about the scar tissue so I just have to push through the pain.''
Hudson played a huge role for the Breakers before his injury and his intensity and drive often gave them another gear. In his absence Alex Pledger stepped up and excelled and has been acknowledged by winning consecutive ANBL Player of the Week awards for the last two weeks.
For Breakers fans, life is good. They recently celebrated the team's third consecutive minor premiership title and haven't tasted defeat in more than 100 days. Hopefully though, the best is still to come.