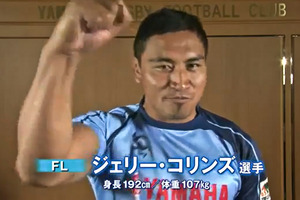 The former rugby club of Jerry Collins has described the ex-All Blacks star's arrest for carrying a knife into a Japanese department store as "regrettable" and an "inconvenience".
Collins has spent two nights in a Japanese jail cell and will be visited by the consul from the New Zealand embassy in Tokyo this afternoon.
The 32-year-old was reportedly fine when he spoke to his manager before flying out of Auckland for Japan last Tuesday.
Four days later the giant flanker was in a Japanese jail after being arrested for carrying a 17cm kitchen knife in a food hall of a department store in the central industrial city of Hamamatsu.
Exactly what happened is unclear, but Collins apparently feared for his safety, telling police he was carrying the large knife for self-defence.
There have been reports that he'd been threatened on social media sites but details remain sketchy.
The Yamaha Engines Jubilo rugby club, with whom he ended a two-year contract last month, released a statement about their former star's arrest.
"This arrest is regrettable as the company, I apologise (for) the inconvenience to many people," said the statement posted on the club's website.
"We will continue to co-operate fully with the police."
Collins' worried father Frankie said today he had still not spoken with his son's agent, Wellington lawyer Tim Castle, and was desperate for information.
Mr Castle told Radio New Zealand today he had been working on the case but had been unable to speak with Collins overnight because of communications restrictions.
A local lawyer has been contracted to represent Collins, who is receiving support from the New Zealand embassy and the Yamaha club.
In Japan, under a Firearms and Swords Control Regulation, it is illegal to have weapons with blades longer than 15cm without police permission.
Under Japanese law Collins, who played for 48 tests including one as captain for the All Blacks, could be held in custody for as long as three weeks.
Mr Castle said an initial three days could be extended for further investigation with court approval "which means the whole procedure can be up to 23 days".
The Ministry of Foreign Affairs and Trade today confirmed that Collins would be visited behind bars at 1pm today.
A ministry spokeswoman said its consular role was to "monitor the welfare of Mr Collins, ensure that he has access to legal advice and keep his nominated point of contact informed of his situation".
Frankie Collins welcomed news that his son was getting an official visit today.
"That's good news," the night-shift roadworker said.
"I've got a lot of questions - what was the problem, where did it start from, these sorts of things."
He was not aware of his son experiencing any troubles off the field.
Throughout his time in Japan, Jerry had not been in touch very often with his family.
But that was not unusual for his son, no matter where in the world he was playing - whether for Wellington, the Hurricanes, All Blacks, Barbarians, Welsh club side Ospreys, or in Japan.
Jerry Collins file
*2001 - involved in an altercation with fan Sonny Shaw outside a Wellington pub.
*2006 - pictured urinating on the field before kick-off against the Wallabies at Christchurch's Jade Stadium.
*2006 - captains All Blacks for only time against Argentina but causes a stir after swearing during a live post-match interview.
*2007 - turns out for Devon club side Barnstaple in a second XV club match following the All Blacks' exit from the World Cup.
*2013 - arrested in Hamamatsu, Japan, for carrying a 17cm cooking knife.
* Read the Herald's live news blog here.