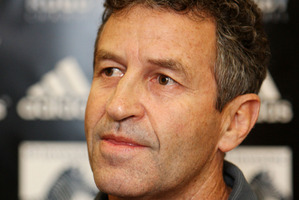 In his 27 years of coaching, Wayne Smith has never missed watching his team play live, but that's all about to change this weekend.
The Chiefs assistant coach, an important factor in the team claiming their maiden Super Rugby title last year, will be in Akaroa for the wedding of his 30-year-old son Nicholas as the Chiefs kick off against the Highlanders in Hamilton on Friday night.
The wedding is scheduled for Saturday but Smith will travel south on Thursday, saying the threat of fog in Hamilton made flying on the morning of the big day too risky. Besides, there was plenty of organising to do, he said.
"I want to really enjoy it. It's a great occasion for us, the whole family is really excited."
The impending nuptials partly explain why Smith was hard at work yesterday after a 30-hour journey home from South Africa, where the Chiefs picked up seven competition points thanks to a win over the Kings and a narrow loss to the Stormers.
"It's the first game I've missed as a coach so I'm doing it hard," he said. "I've got to get all my planning done.
"It is badly planned but my fault [and] the reason is pretty ironic. Because I was probably going to go to England [to coach the national team] and my son was organising his wedding, I told him to organise it after the Six Nations.
"When I decided to stay and asked 'did you ever get that wedding put back to January, mate?' He said, 'I can't, all the facilities are booked'. It's not easy down there with the earthquakes, there's not many places you can get married."
Smith's coaching career began with Canterbury B in 1986 and peaked with the All Blacks' 2011 World Cup victory. He said he would be glued to a television in Akaroa on game night and couldn't rule out texting advice to his coaching colleagues Dave Rennie, Tom Coventry and Andrew Strawbridge.
- APNZ