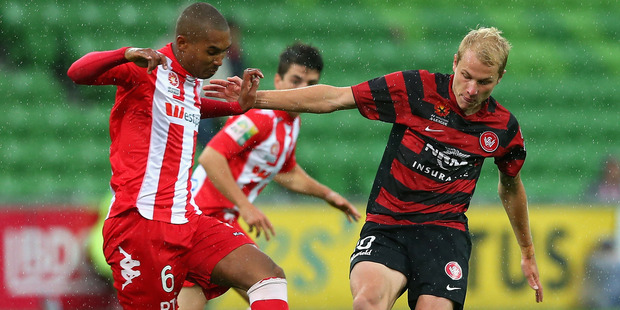 A nine-point gap between fourth-placed Adelaide and fifth-placed Sydney again raises the question as to whether six-team playoffs in a 10-team league is too many.
Impressive newcomers Western Sydney, 3-1 away winners over Melbourne Heart and, with the Wellington Phoenix, the only team to score more than one goal in the round, are set to become minor premiers and go into the playoffs as top seeds ahead of Central Coast.
Only a complete form reversal - 10 straight wins since their 15th round 0-2 home loss to the Mariners - will loosen their grip on the top spot.
But should teams more than 20 points adrift of the leaders be given a chance to claim grand final glory? Even Wellington are only four points out of a potential playoff place.
There remains a strong belief that the winner should be the top team at the end of the regular season, as it is in England and other European and South American leagues. That no team other than those finishing first or second at the end of the regular season have won the grand final suggests giving teams finishing as low as fifth or sixth a spot in the playoffs is a waste of time.
Five points clear and with games against Sydney (at home on Saturday) and Newcastle (away on Friday week) to play, the Wanderers should be crowned minor premiers and deserved champions, but that might not be the case if they get tipped over in post-season, which would be a shame, especially if the team finishing sixth, and at least 20 points back, should somehow claim grand final glory.
The Phoenix have a week off before ending their season at home to the Victory.