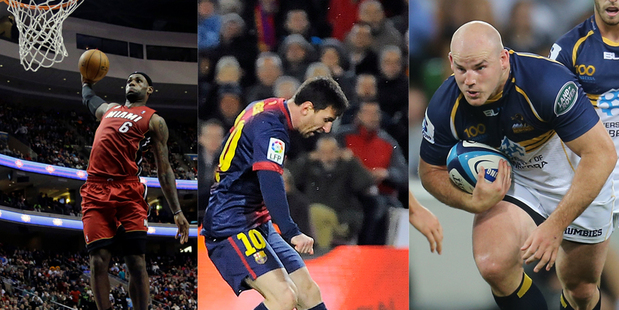 As the NBA's Miami Heat aim to extend a 22-game winning streak today, Cameron McMillan looks at other active streaks in sport that are equally impressive.
23 straight seasons scoring a goal - Ryan Giggs
When Giggs opened the scoring in Manchester United 2-0 win over Everton last month he continued his record of having scored in each of the 23 seasons of his career. The 39-year-old has been at the club since 1990, netting 114 goals in 652 games, a Manchester United record. He's never been a prolific scorer, more known as a provider of goals, but it's an impressive record for its longevity.
Streak began: May 4, 1991
Streak length: 21 years, 10 months, 15 days (7990 days)
22 straight wins - Miami Heat
The Heat equalled the second-longest winning streak in NBA history after beating the Toronto Raptors 108-91 yesterday, for their 22nd consecutive victory. The win ensured the Heat tied the 2007-08 Houston Rockets but remain some distance from the record which is 33 games, set by the 1971-72 Los Angeles Lakers. Miami will try to move into sole possession of second today when they visit the Boston Celtics who ended the Rockets' run five years ago.
The NBA defending champions last lost a game was on February 1 against the Indiana Pacers improving their record from 29-14 to 51-14 over that time.
Streak began: February 3, 2013
Streak length: 44 days
18 straight games with a goal - Lionel Messi
Lionel Messi extended his Spanish league scoring streak record to 18 games on Sunday, getting two goals to move into seventh place on the La Liga career list and lead Barcelona over visiting Rayo Vallecano 3-1. The last time he didn't score for Barcelona in a 3-1 La Liga win over Celta Vigo on November 3. That was after scoring seven times in the previous three games before that. He looks to continue the streak against the same team in a fortnight and add to his season tally of 55 goals.
Streak began: November 11, 2012
Streak length: 128 days
16 straight wins - Breakers
The Breakers have been unstoppable in 2013 with their 16-game winning streak stretching back to December 13 when they followed up a defeat to the Sydney Kings, their third of the season, with a 97-76 thrashing of the Cairns Taipans. Since then they've picked up 15 more wins to take their season tally to 23. They face a big task to extend that record past the 100 day mark when they travel to Perth on Thursday in the last regular season game. After that it's the playoffs where they'll be even more keen to keep winning and pick up a third straight title.
Streak began:December 13, 2012
Streak length: 96 days
15 straight years making Champions League - Arsenal
Arsenal have made 15 straight Champions League appearances which has only come to light since it's under threat with the Gunners currently sitting in fifth on the Premier League table. To continue the streak they need to make up a four point gap on rivals Tottenham with nine games remaining in the season. Albeit impressive, 15 straight years isn't a record. Manchester United have played in 17 straight tournaments and Real Madrid the last 16 while picking up five titles between them. Arsenal have reached the final once in their 15-year run, losing to Barcelona in 2006.
Streak began: September 16, 1998
Streak length: 14 years, 6 months, 3 days (5298 days)
10 straight wins - West Sydney Wanderers
The Wanderers sit on 10 straight A-League victories following their 3-1 win over the Melbourne Heart on Saturday. The competition newcomers have no doubt been the surprise package this season. The side's last defeat was a 2-0 loss to the Central Coast Mariners on January 6 and they've won 14 of the last 16. They next face Sydney FC in the Sydney derby before ending the regular season against Newcastle. The previous record of eight wins held by the Melbourne Victory in 2006.
Streak began: January 6, 2013
Streak length: 72 days
10 straight defeats - NZ Warriors
The Warriors have lost 10 straight with their last win coming against the Gold Coast Titans, going all the way back to round 18 July 8 last year. From there they ended the season with eight straight defeats with Brian McClennan getting the axe with two games left in 2012. Since then two coaches have produced zero wins. Saturday's 16-14 loss to the Roosters was the fourth defeat in the streak to be decided by just two points. They head to Cronulla this Sunday to attempt to end the streak against the Sharks.
Streak began: July 8, 2012
Streak length: 254 days (however a large chunk includes the offseason)
Meanwhile the Melbourne Storm have a 10 game winning streak going back through their championship run last year to August 4. They put that winning sequence on the line against the Bulldogs in a grand final re-match on Thursday.
Streak began: August 4, 2012
Streak length: 227
7 straight away wins - Brumbies
The Brumbies' 29-10 win over the Sharks on Sunday, their seventh on the road, broke the Super Rugby record for consecutive away victories. The record was previously shared by the Crusaders and Hurricanes. It all began when they beat the Lions at Johannesburg last April and also includes wins over the Hurricanes, Rebels (twice), Force and Waratahs. They face the Stormers in Cape Town this week before heading home for a week, then taking on the Highlanders in Dunedin a week later.
Streak began: April 27, 2012
Streak length: 326 days