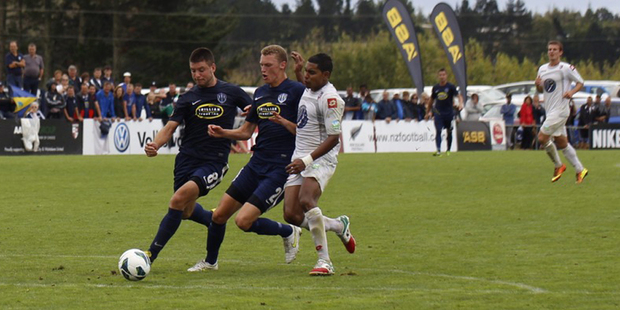 Waitakere United claimed their fourth straight ASB Premiership title with a 4-3 extra-time win over rivals Auckland City FC in a thrilling grand final this afternoon.
Allan Pearce headed home the winner in the first half of extra-time in a match that had four lead changes and 11 cards, one red, to earn Waitakere their fifth title.
Earlier 10-men Auckland looked set to win their fifth title when Chris Bale put them ahead 3-2 in the 89th minute.
However golden boot winner Roy Krishna sent the match into extra-time in the 90th minute, his second goal of the match.
Auckland opened the scoring when Manel Exposito netted in the 15th minute. Waitakere however hit back and then took the lead in quick succession with Krishna levelling the match up with a volley in the 30th minute before Pearce headed his first goal just a minute later.
Exposito got Auckland back in the match with a second goal in the 74th minute but minutes later they were reduced to 10 men when substitute Simon Arms was red carded after bringing down Krishna.
With both sides scoring in the final minutes the final went to extra-time for just the second time in the competition's nine year history.
- nzherald.co.nz