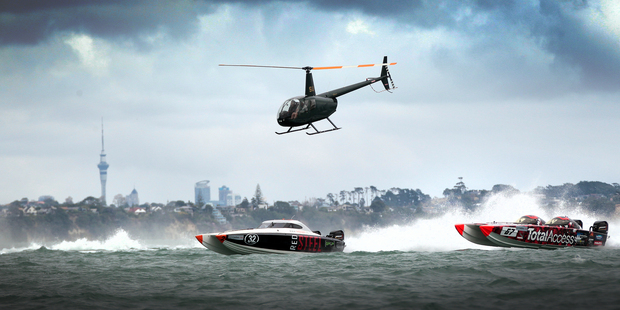 Excitement filled the air and the sea at the Offshore Powerboat races yesterday.
Shannon Chambers and Harley Taylor in Total Access, on the right, ultimately won the Superboat Lite class. Brothers Tony and Wayne Carson were in Red Steel, on the left.
NZ Offshore Powerboat Racing's Leanne Erceg said Tony Coleman and Chris Hanley, in Fujitsu Better Heat, were the day's overall winners.
Two helicopters, one carrying paramedics and the one pictured carrying a film crew, followed the action. Erceg said the powerboats could reach speeds of 210km/h.
The next races will be held at Wellington on April 6.
Those will be followed by more at Napier a fortnight later.