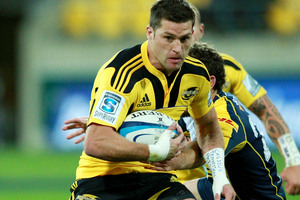 Whether All Blacks wing Cory Jane delivered his own daughter this morning will remain a mystery until he and his wife Amie reveal all in a women's magazine.
Jane, 30, and his wife Amie welcomed their fourth child, Iridessa Dakota Jane, into the world today and immediately announced it via Twitter.
Jane, who is out for the Hurricanes Super 14 season with an injured knee, posted: "Iridessa Dakota Jane is in the building. She was born this morning & delivered by Dr Cory Jane @4LittleJanes & baby girl are doing great.''
Jane later deleted the tweet but his wife, who is a prolific tweeter, also posted a tweet shortly after the birth.
''@CoryJane1080 n I r happy to announce the arrival of our darling baby girl..Iridessa Dakota Jane..weighing a healthy 9.1lbs.''
Hurricanes spokeswoman Bronwyn Williams said Jane wouldn't confirm if he delivered his fourth child and said the couple had a deal with women's magazine Woman's Day.
Iridessa is also the name of a fairy in a number of Disney movies. The name Dakota has also become popular in recent years after the rise of actor Dakota Fanning.
The couple have two sons - Cassius and Tennyson - and a daughter, Prissius.
- APNZ