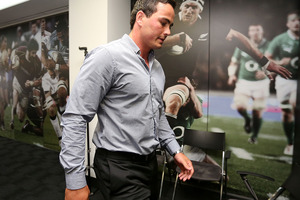 With his alcohol issues resolved for the moment at least, Zac Guildford's return to the Crusaders is a massive boost for a team struggling for attacking inspiration.
He hasn't been named for his team's first home match of the season on Saturday night against the Bulls - that would be far too early - but the following week's encounter against the Kings at the same AMI Stadium venue could be the ideal re-introduction.
Without him, the Crusaders lack finishing class on the wings, although 22-year-old Johnny McNicholl looks like an outstanding prospect in his first season of Super Rugby.
McNicholl will quickly find himself an automatic selection on one wing if his body remains sound - and he has had some injury problems already.
Other than him the Crusaders are struggling following Sean Maitland's departure for Scotland. Kurt Baker, a wider training group member but specialist wing, remains on the sidelines with a hamstring injury.
Adam Whitelock was tried there for the Blues defeat and quickly discarded. Tom Marshall, a fullback, can do a job there, but none is as effective as 24-year-old Guildford at finishing, or indeed starting try-scoring movements.
The reason why the Crusaders like Guildford so much is his work-rate. He has real pace, obviously, but he constantly puts himself in positions where he can use that speed effectively.
His combinations with Dan Carter and Israel Dagg are also first-rate - both have the ability to anticipate the unique angles Guildford runs.
Although they lost to the Hurricanes, the Crusaders' attack was much improved. The backs contributed three of the four tries through Carter, Dagg and Ryan Crotty, with the All Blacks pair looking much more engaged than they did in the previous week's defeat by the Blues.
The Crusaders will feel they are getting close to clicking into gear. With Guildford back - sober, focused and determined to make the most of his reprieve - their chances in this year's competition are much improved.
- APNZ