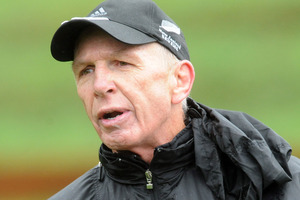 An ear infection will prevent New Zealand sevens coach Gordon Tietjens travelling with the team when it leaves for the Hong Kong tournament on Sunday.
"I need a little more time to come right so at this stage I am planning to arrive in Hong Kong next Thursday," Tietjens said.
Skills coach Damian Karauna will take over coaching duties and assisted by Tomasi Cama, who is injured and will not play.
"Damian is very experienced in the game of sevens having played for the All Blacks Sevens over eight seasons. He knows the drills and tactics having been with us since late last year so I am sure the team will be well prepared," Tietjens said.
"He will also be supported by Junior [Cama] whose deep knowledge of the game will be a great help to Damian."
Tietjens has prepared the team all week at Mt Maunganui and will continue to liaise with team management before heading to Hong Kong.
He has named two new caps in the squad, which will travel for the Tokyo round of the competition after the Hong Kong tournament.
Matt Faddes of Otago and Trinity Spooner-Neera, of Hawkes Bay, have been named in the absence through injury of Cama, Toby Arnold, Kurt Baker, Scott Curry, Mark Jackman and David Raikuna.
"The injuries have opened the door to some new players and that is a great opportunity for them and certainly helps us build greater depth for the side which is good for the long term," Tietjens said.
"We want to do well in Hong Kong and Tokyo to cement our place at the top of the World Series table heading into the final legs in Glasgow and London, but as recent tournaments have shown tough competition is coming from all the teams we meet so we need to be on our game, every game."
NZ sevens squad for Hong Kong and Tokyo: Sam Dickson (Canterbury), Matt Faddes (Otago), DJ Forbes (c) (Counties Manukau), Gillies Kaka (Hawkes Bay), Rocky Khan (Auckland), Ben Lam (Auckland), Luke Masirewa (Waikato), Tim Mikkelson (Waikato), Lote Raikabula (Wellington), Trinity Spooner-Neera (Hawkes Bay), Sherwin Stowers (Counties Manukau), Belgium Tuatagaloa (Wellington).
- APNZ