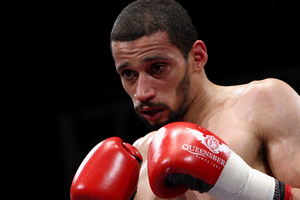 British boxer Curtis Woodhouse has tracked a Twitter abuser to his house and forced the troll into a humiliating apology, reports say.
Woodhouse, 32, a former footballer and one-time light welterweight champion of England, was bombarded by tweets mocking him about lost fights and even his father's death.
Earlier this week he decided he had had enough and jumped in his car to track down his tormentor, who called himself "The Master'', while giving his 26,000 followers a running commentary on the way.
After finding the troll's address he arrived in the man's street in the northern industrial city of Sheffield on Monday and tweeted a picture of himself there to prove it.
"Right Jimbob im here!! someone tell me what number he lives at, or do I have to knock on every door #itsshowtime,'' he wrote.
The unfortunate Twitter abuser, whose real name is James O'Brien, 24, sent a plaintive tweet throwing in the towel before the boxer could confront him in person.
"I am sorry its getting abit out of hand i am in the wrong i accept that,'' O'Brien wrote.
The boxer said he had previously received abusive tweets including one mocking the death of his father from a stroke five years ago, but the last straw came when he was bombarded with more insults after he lost his English boxing title to Shayne Singleton on Friday.
"I just thought,'I'm not taking this','' Woodhouse was quoted as saying in The Times newspaper.
He added there was "no way I was going to do anything and I would not advocate violence as that would make me as bad as him''.
His abuser later said it was "just a bit of fun but it got really out of hand''.
"I was at work when Curtis came here so I wasn't home but my phone was ringing off the hook. It was crazy,'' O'Brien told the Daily Mirror.
"I really regretted it. You see, all of my mates were egging me on to say things.''
- AFP