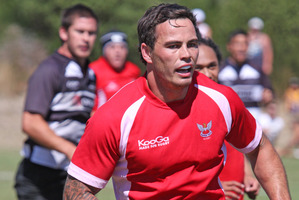 Zac Guildford says he will strive to earn back the trust and respect of those around him, following his reinstatement to professional rugby and the Crusaders.
A misconduct hearing has been held in Auckland this week over the former All Black's alcohol issues.
The New Zealand Rugby Union announced this morning he had been reinstated.
"I have accepted that I have challenges that will be with me for life and that it is up to me to continually work at managing them,'' Guildford said.
"To help me do that I will continue to take on board the friendship, advice and tools offered by the experts I have been fortunate enough to work with, and the support of those close to me: my family, friends and the wider rugby community.
"These challenges are not something I want sympathy for, or mothering. I know I have to earn back the trust and respect of others and hope that my actions moving forward will achieve that.
"I know I have apologised for my behaviour before and that people's patience has grown thin. For that reason, I am hugely grateful that I have been given this opportunity to show that I really am serious about getting my life heading in the right direction.
"I appreciate it may well have been easier for the NZRU and Crusaders to terminate my employment, rather than continue to support me in the way they are. I want to thank them publicly, and reward their faith in me and my recovery over time.''
New Zealand Rugby General Manager Professional Rugby Neil Sorensen said Guildford's return to rugby comes with several conditions that both parties have agreed will remain confidential.
"This decision was not reached lightly or hastily, and follows a very thorough misconduct process and consultation with medical experts.
"We have had a full and frank discussion with Zac about the situation in which he finds himself, including his medical condition. Despite the serious misconduct, we found that there were sufficient mitigating circumstances to believe that Zac can continue to make a significant contribution to New Zealand Rugby provided that he observes the conditions and continues with his path to recovery.
"We will continue to work with the Zac and the Crusaders to help reintegrate Zac into life in rugby, and to ensure he has the best opportunity to continue giving to the game,'' Mr Sorensen said.
Guildford will not face the Bulls in Christchurch this weekend but could be in the running the return to the rugby field against the Southern Kings on Saturday March 23.
- APNZ