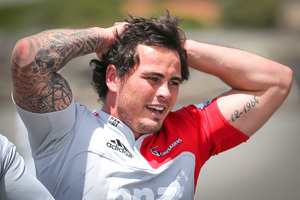 Zac Guildford's return to Super 14 rugby appears imminent after he and his representatives met New Zealand Rugby Union officials in Auckland today.
Both 3News and One News reported tonight that Guildford won't have his NZRU contract torn up and could be free to return to the Crusaders shortly following a misconduct hearing with the NZRU yesterday.
The NZRU issued a brief statement tonight that said: "The New Zealand Rugby Union has today met with Zac Guildford and his representatives in Auckland following a misconduct hearing yesterday. A decision has not yet been finalised, and will be announced tomorrow morning. Both parties have agreed that no further comment will be made until then.''
The 10-test All Black recently completed an intensive 28-day treatment for his alcohol issues, thought to be at the exclusive Ahuru Recovery Retreat near Ohakune, which the NZRU highlighted in a recent statement.
The organisation said he was also "committed to a continuing care plan''.
It is understood that Guildford presented the NZRU with a medical certificate saying he was unfit to work before stepping down following an incident in Christchurch in late January where he allegedly punched a fellow party-goer.
He was allowed to play club rugby on Saturday for his Hawkes Bay club, Napier Tech.
- APNZ