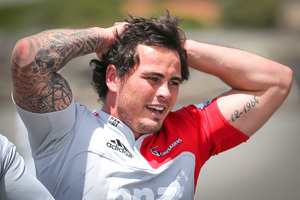 Zac Guildford's misconduct hearing concluded last night but the New Zealand Rugby Union made no decision over whether to sack him or allow the former All Black to return to the Crusaders.
Guildford faced the hearing after allegedly punching a party-goer while drunk in Christchurch in late January. He voluntarily stood down from the Crusaders after previously being censured by the NZRU for an incident in Rarotonga following the World Cup in which he hit someone in a bar, also while under the effects of alcohol.
He was allowed to play club rugby on Saturday for his Hawkes Bay club, Napier Tech, and is understood to be eager to return to his Crusaders Super Rugby franchise. However, his wait continues as the NZRU are in no rush to make a decision and a spokeswoman said an announcement might not even be made tomorrow.
No other details were available.
Guildford recently completed an intensive 28-day treatment for his alcohol issues, thought to be at the exclusive Ahuru Recovery Retreat near Ohakune, which the NZRU highlighted in a recent statement. The organisation added that he was also "committed to a continuing care plan".
It is understood that Guildford presented the NZRU with a medical certificate saying he was unfit to work before stepping down and his supporters hope that will go some way in avoiding another misconduct charge, which could result in a scrapping of his contract.
He is in the final year of his deal with the national organisation and it is highly likely he will play overseas if he receives bad news when a decision is finally made.
- APNZ