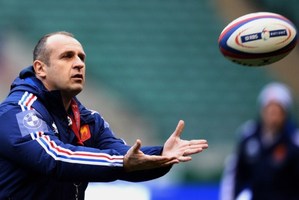 France coach Philippe Saint-Andre came out fighting yesterday, insisting that despite a dreadful Six Nations campaign, he was staying on as planned until the 2015 World Cup.
The 45-year-old defended his record, saying it was a work in progress.
Saint-Andre was speaking the day after his side earned their first point in a 13-13 draw with Ireland.
The French need to beat Scotland at home in their final match on Sunday (NZT) - a draw could suffice depending on other results - to avoid finishing bottom of the table for the first time since 1999.
Despite this and the fact that France are on a seven match winless run in the Six Nations, the former France captain remained defiant.
He was incensed by remarks he made on Thursday which had been taken out of context to imply that he would resign if they lost to Ireland.
"I will of course as is my nature assume total responsibility and take the blame for the campaign," he said. "However, I am here till 2015 and I will not be leaving, quite the contrary."
- AFP