Nadzeya Ostapchuk's latest drugs test failure may bag Valerie Adams a worlds silver, writes Michael Brown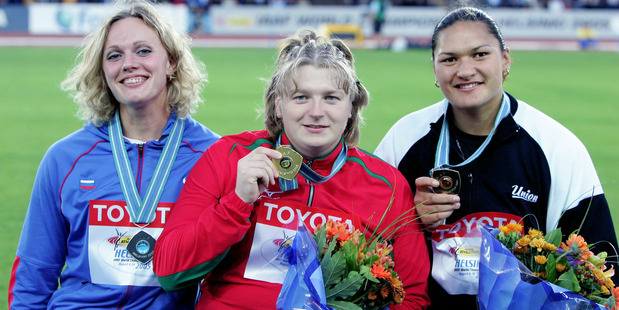 It won't be gold, but Valerie Adams has the chance to upgrade a medal won at the 2005 world championships after her nemesis Nadzeya Ostapchuk failed a retrospective drugs test from those championships.
The International Association of Athletics Federations re-tested a selection of doping samples collected from the 2005 world championships in Helsinki and found six violations, including one from Belarusian shot putter Ostapchuk, who won the event. All of the athletes were from Russia or Belarus, and included three gold and two silver medallists.
Team Adams are unsure whether the IAAF will upgrade her medal from bronze to silver but there is precedent with fellow Kiwi Nick Willis having his 1500m bronze upgraded to silver from the 2008 Beijing Olympics.
"We don't really know too much yet," said Adams' manager Nick Cowan. "The whole situation, including London, is before the IAAF disciplinary committee and they will decide about the medals.
"Anecdotally, I can say there have been times in the past when a medal has been stripped but that it hasn't been re-allocated, and there have been times when they have re-allocated medals."
Ostapchuk's long-term future must now be in doubt. The 32-year-old is serving a one-year ban from the Belarus Athletics Federation for her failed test from last year's London Olympics but is still to face sanction from the IAAF. The international body might now contemplate a long-term suspension.
It would further consolidate Adams' dominance of the sport, considering Ostapchuk was the only person to beat Adams since 2006, when she won the 2010 world indoor championships in Doha - although suspicion must now be cast on that performance.
Adams, who competed in the Sydney Track Classic last night, issued a brief statement yesterday in which she welcomed the result.
"It is fantastic that the IAAF are working hard to uncover drug cheats and are focused on maintaining the integrity of the sport," the two-time Olympic champion said. "I find it very motivating that the world governing body is committed to making the sport of athletics as clean as possible.
"I've had a great start to 2013 with the result from the Shot in the City in The Cloud last weekend and my training is going very well. I'm looking forward to the New Zealand track and field champs in Auckland in two weeks and heading towards the world championships in Moscow in August."
The IAAF didn't reveal what banned substances were found in the re-examination. Athletes can be sanctioned for a violation up to eight years after they provide their urine or blood samples for a drug test. It helps them test for substances they might not have been able to detect at the time the sample was taken.
"The IAAF's message to cheaters is increasingly clear that, with constant advancements being made in doping detection, there is no place to hide," IAAF president Lamine Diack said.
Ostapchuk won the 2005 world championships with a throw of 20.51m, ahead of Russia's Olga Ryabinkina (19.64m) and a 20-year-old Adams (19.62m).
Adams' camp have long-held suspicions of Ostapchuk's 'training' methods and this was vindicated when she twice tested positive for metenolone in urine samples provided at the London Olympics.
The head of the Belarusian anti-doping agency, Alexander Vanhadlo, provided a flimsy explanation when he said her coach Alexander Yefimov "confessed" to adding the banned drug into Ostapchuk's food because he was worried by her unimpressive results leading into the Games.
"Yefimov said that he did it at the training base in Belarus just days before the start of the Games without Ostapchuk's knowledge," Vanhadlo said. APNZ
- APNZ