Winger shows breathtaking range of individual skill in unlikely victory.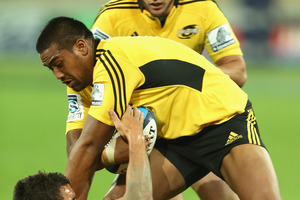 The All Blacks used to have a simple effective plan - give the ball to Jonah Lomu.
The Hurricanes lucked on to a similar scheme last night as Julian Savea lit up the Cake Tin like his famous predecessor. The resemblance was uncanny as Savea scored a truncated version of the world-famous try Lomu claimed at the 1995 Rugby World Cup.
Savea's range of individual skills was breathtaking and his impact enormous on a night when his side was done over in a most areas but claimed a gritty, unlikely 29-28 victory after Alipate Leuia's late intercept try and Beauden Barrett's impeccable goalkicking.
For large chunks of his early rugby life Savea was a grunty attacking force. Outside that, he had problems on defence and was flaky under the high ball.
That was before he was an All Black. Last night at the Cake Tin, he showed why he made that side and how his game has grown.
Early on he stunned another heavyweight Robbie Fruean with a superb defensive tackle. Normally when Fruean gets some momentum he manages to bump an initial defender or give him a hard time.
On this occasion he was left on his considerable backside as Savea simply sacked him. It took Fruean sometime to clear his thoughts and regain his ideas.
Much of the Hurricanes play was fractured but when they biffed the ball to Savea's wing the big man blasted downfield. He swept aside another All Black teammate Israel Dagg in a barging run and caused the Crusaders to commit several men to his defensive lane.
On another occasion he went to the air, followed up his kick, regained it and charged on. It was an exhibition of individual class in a Hurricanes backline which looked patchy for all their talents.
They were on the rack in the middle stages of the first half as they fell off tackles and in one of those raids, Ryan Crotty scored a fine individual try. He swept aside Beauden Barrett, Jason Eaton, Tim Bateman and Alipati Leuia in an arcing run in a period when the Canes looked flustered.
Their lineout was under heat and they had made a mess of collecting Daniel Carter's kickoffs until Victor Vito assumed control.
Around those stresses though the Hurricanes had Barrett's goalkicking and with four penalty successes from four he nudged his side to the lead at the interval.
That advantage had eroded after a further 10 minutes while the Hurricanes lost hooker Dane Coles to an ankle injury in his 50th game.
Crusaders hooker Cory Flynn burrowed across the chalk with confirmation from the TMO before Dagg showed his soccer skills in a thrilling 75m tap and chase effort.
A similar finish brought Daniel Carter the Crusaders bonus point fourth try but before that, Savea created the most hubbub with the Hurricanes opening touchdown.
When he got the ball at the end of a chain movement, the defence was on top of him. Utility wing Tom Marshall was cast aside and confronted again by Dagg, Savea dropped his shoulder to bounce him out of the way and then lurched to the line for a wondrous touchdown. A stunned Crusaders side worked their way down to the red zone in the final minutes and set for a dropped goal from Carter but his kick slewed well wide and the Hurricanes shut down the game.
Hurricanes 29 (Julian Savea, Alipate Leuia, tries; Beauden Barrett 5 pen, 2 con)
Crusaders 28 (Ryan Crotty, Cory Flynn, Israel Dagg, Daniel Carter, tries; Daniel Carter 4 con)
HT: 12-7