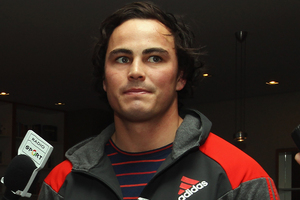 Zac Guildford has been cleared to play for his Hawke's Bay rugby club Napier Tech this weekend but a decision is yet to be made on his Crusaders future.
Guildford agreed to withdraw from the Crusaders indefinitely in January after a recent alcohol-related incident in which he allegedly assaulted a party-goer in Christchurch. It was the latest in a series of misdemeanours involving alcohol and he underwent an intensive treatment programme and an NZRU statement said he has now committed to a continuing care plan.
"We have been advised that Zac has completed an initial programme and we have received professional advice that he is able to return to rugby and attend the misconduct process,'' NZRU general manager professional rugby Neil Sorensen said. "We will be meeting with Zac early next week to address the outstanding misconduct allegations but, in order to ensure that the process is fair to him, it is not appropriate to comment further, pending the outcome of that process.''
Guildford had been due to appear before the NZRU on Thursday but that misconduct hearing was delayed. The 24-year-old could have his NZRU contract terminated but, equally, could be back playing for the Crusaders soon.
"Zac has developed a much greater understanding and acceptance of the challenges he faces and, while now is not the time, hopes in due course to be able discuss these more openly,'' New Zealand Rugby Players Association chief executive Rob Nichol said.
"He remains very grateful to those experts who are assisting him, and for the support he has received from family, friends and the wider rugby community.''
- APNZ