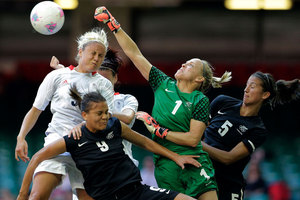 The New Zealand women's football side have a great chance of making the final of the Cyprus Cup tournament after a 2-0 defeat of Italy last night (NZT).
The win, courtesy of goals to Hannah Wilkinson and Anna Green, means the Football Ferns have a perfect two wins from two record and they can qualify for the final with a good result against England on Tuesday morning (NZT).
Substitute Wilkinson scored from a narrow angle to put New Zealand in front on 63 minutes and Green scored directly from a corner six minutes later just seconds before she was pulled for a pre-planned substitution.
The winning margin could have been greater, with Green hitting the post and Helen Collins rippling the side netting in the opening 45 minutes. Katie Hoyle rocked the crossbar with a long range drive in the second spell, New Zealand's all-time leading scorer Amber Hearn had a penalty saved and Betsy Hassett also missed from six yards late in the match.
The Football Ferns opened their Cyprus Cup campaign with a 1-0 win over Scotland and, like that game, kept the ball for long periods against the 11th-ranked Italians.
"We're looking at the changing the style of play we have and it's going to take some time for us to become comfortable doing that, but I was pleased with the way we controlled possession again,'' coach Tony Reading said.
"We had some good opportunities in the first half but went in to the break scoreless but gradually we asserted our dominance on the game and scored the two goals.''
New Zealand beat Italy 1-0 the last time they met at the 2010 Cyprus Cup and today's result is another encouraging sign of the side's development.
They now have the luxury of two rest days before facing England in their final Group A match.
"The extra rest day is welcomed as we prepare for England,'' Readings said "We watched them come back from 2-1 down against Italy on day one to win 4-2.''
The Football Ferns were beaten 2-1 by England at the 2011 Women's World Cup in Germany and last year lost 1-0 at the Olympics against Great Britain - a squad which featured 16 English players and two Scots.
"We know each very well so I can see the match being a tactical battle but, more importantly, there is something riding on it which gives us more tournament experience and adds a bit of pressure on our players to finish top of the group'' Readings said.
New Zealand 2 (Hannah Wilkinson 63, Anna Green 69) Italy 0. HT: 0-0.
- APNZ