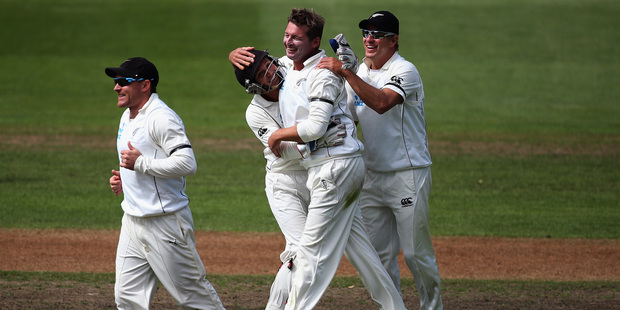 Hamish Rutherford and Bruce Martin; take a bow. The pair made seamless transitions into the test ranks against England, the second-best side in the world. Martin took four for 43 from 14 overs and Rutherford stroked 77 not out against some of cricket's best.
New Zealand has used 23 players in 12 tests over the past 12 months. Coach and chief selector Mike Hesson has been forced, through a mixture of form and injury, to take a punt on occasion and hope his selections meet the demands of five-day cricket.
Martin and Rutherford met the standard, replacing Daniel Vettori and Martin Guptill respectively.
They were part of a New Zealand juggernaut which caused England No3 Jonathan Trott to note afterwards that: "It can't get any worse. In cricket you earn the right to put the opposition under pressure and we didn't do that."
Trott went away hoping they weren't going to get the "hairdryer treatment" from coach Andy Flower. High praise indeed.
Martin's selection is on the basis of consistency and longevity on the first-class circuit. Before his debut he had played 115 matches over 14 seasons, taking 314 wickets at an average of 35.96. Not bad for a man whose New Zealand Cricket profile says he was born with dislocated hips and had a cast down to his ankles.
The 32-year-old said he was looking "to take poles and bowl to some pretty attacking fields" rather than hold up an end during the series.
While the poles suggestion might have been a stretch, he lured Matt Prior, Trott, Stuart Broad and Jimmy Anderson into false shots after lunch with his Vettori doppelganger left-arm orthodox action.
Rutherford showed further evidence he has dispatched the "son of Ken" burden. He continued his solid opening record since earning a permanent first-class spot with Otago only last March. He played all around the wicket but looked at his best cannoning the ball into boundary hoardings down the ground.