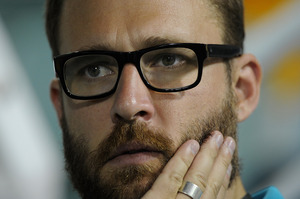 Former New Zealand cricket captain Daniel Vettori has apologised for his role in an alcohol-related incident that resulted in international teammate Jeetan Patel being hurt in central Queenstown.
Patel, who has also apologised for his actions, was involved in an altercation with a pub bouncer on Wednesday night last week and suffered a mild concussion.
New Zealand Cricket released a statement to Fairfax Media describing the actions of the two spin bowlers - neither of whom is currently involved with the national team - as "completely unacceptable".
Live scoring: Black Caps vs England - day two
The incident came after the first day of a four-day match between Patel's New Zealand XI team and England.
Patel was too unwell to play on the second day.
In a statement, New Zealand Cricket said it "understands that Jeetan Patel was refused entry to a bar in Queenstown. He subsequently fell and hit his head.
"Patel returned to the team hotel, felt unwell and took himself to (hospital)."
Patel, who has lost his place in the Black Caps and whose mother died in January, admitted the pair were drinking and issued an apology.
"I am sorry for my behaviour that evening and I accept that it was totally inappropriate for me to be out drinking during a match where I was representing my country," he said.
International veteran Vettori, who was in Queenstown as part of his recovery process from an achilles injury, also regretted his involvement.
"My behaviour was completely unprofessional in going out and I should have spent time with Jeetan in another way," he said.
"I would like to apologise to the NZ Cricket medical team who I was there to work with and to anyone else who is disappointed in my behaviour."
He is reported to have been helping Patel deal with grief after the recent death of his mother.
The incident comes in the wake of another after-hours incident that ruled New Zealand pace bowler Doug Bracewell outt of this week's first Test against England in Dunedin.
Bracewell cut his foot on glass while cleaning up from a party at his house four days out from the Test.
Read more: Life tough for Patel on and off the field
- AAP