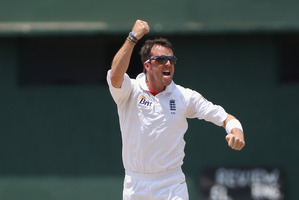 England have lost Graeme Swann to an elbow injury for the test series but - when it comes to playing New Zealand - they gain Monty Panesar.
Off spinner Swann is yet to play New Zealand in his 50 tests but spent time playing in Christchurch several summers ago before his international success.
Left-arm orthodox Panesar has played six of his 45 tests against New Zealand. He has 20 wickets at 28.85 compared with an overall average of 32.64. His best test bowling in an innings - six wickets for 37 - came against New Zealand at Manchester in 2008. The 30-year-old also has a penchant for bowling to New Zealand captain Brendon McCullum, whom he has dismissed six times, his most prolific test victim. Ross Taylor has fallen to him four times.
Panesar's ability to take the ball away while allowing for the odd one to straighten could prove troublesome to six right-handers in New Zealand's top seven.
Swann has opted for the services of Minnesota-based specialist elbow surgeon Shawn O'Driscoll at the Mayo Clinic. He aims to return for the northern summer tests against New Zealand and the upcoming Ashes. James Tredwell will replace Swann in the squad.
"I was trying to go through my whole career without needing more surgery," Swann said. "But the specialist said something needed to be done. So be it. It's a huge year for English cricket so if this means taking a more active part then it's something I have to do.
"I knew something wasn't right, I couldn't put an extra snap on the ball when I was bowling. I was only 70-80 per cent fit.
"If I don't have the surgery it's more or less curtains. I'm buoyed by the success last time I had it done. My elbow was in a lot worse shape then; it was like a bomb had gone off in there."
Swann only discovered his changed circumstances yesterday morning when the scans came back.
"In Queenstown, just before the [New Zealand XI] game, I felt an unusual pain I hadn't felt since before the last operation.
"It got worse during the game. I raised my fears with the doctor and the scans showed there had been deterioration.
"I'll be relieved once it's done but I'm apprehensive now because I don't like general anaesthetics."
At the other end of the spectrum was a buoyant Bruce Martin. He will debut for New Zealand alongside Hamish Rutherford.
Persistent rain forced play to be abandoned on the opening day at Dunedin's University Oval after the hosts won the toss and chose to field.
Martin was handed his cap by former international Simon Doull, who played with him in his early days at Northern Districts. His elevation was matter-of-fact.
"Baz [Brendon McCullum] came in [at breakfast], stuck out his hand and said 'congrats and go well'. He knows how I operate. That's how I like it."
- APNZ