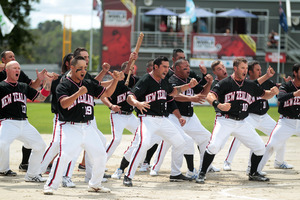 New Zealand suffered a serious setback at the World Softball Championships tonight, losing 9-7 to Canada to set themselves on a collision course with defending champions Australia.
In a dramatic contest at Rosedale Park in Albany, Donny Hale tied the game with a two-out two-run homer in the bottom of the seventh before Canada snatched victory with three runs in the first extra frame.
The Black Sox and Canada came into the contest as the only unbeaten sides in pool B, but only the North Americans emerged unscathed after a rough night for the hosts' pitching staff.
New Zealand now look likely to finish second in their pool, a position which will see them face the top side in the other half of the draw when the playoffs begin on Friday.
That will almost certainly be Australia, who have won four games and conceded only one run in a bid to retain the title they won by beating the Black Sox four years ago.
A loss in that game would not spell the end of the hosts' challenge, though it would mean a harder potential passage to Sunday's final.
New Zealand's pitching woes began immediately tonight, with both Penese Iosefo and Nik Hayes needed to escape the first inning. But the Black Sox batters again started strongly, with a pair of Brad Rona home runs handing his side a 4-1 lead by the fourth.
After Jeremy Manley had replaced Hayes on the hill, Ryan Boland tied the game with a three-run homer to right before Canada grabbed their first lead the following inning. The Black Sox were unable to respond until down to their final out but Rona's heroics proved in vain as Jarrad Martin, in his first action on the mound in the tournament, gave up the winning runs.
New Zealand 7
Canada 9
- APNZ