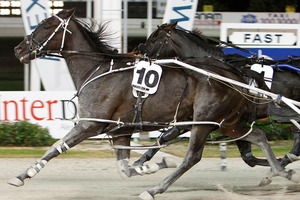 Fallen Kiwi pacing hero Terror To Love won't have to wait long for his shot at revenge.
Because he will get another crack at his Interdominion conqueror I'm Themightyquinn in Friday night's $250,000 Auckland Cup.
And this time Terror To Love will have clearly the best of the draws.
He had to settle for fourth after sitting parked for the last lap as I'm Themightyquinn won his third Inter Final.
But just an hour before the final, Terror To Love drew the ace in Friday night's Cup, whereas I'm Themightyquinn will start from the outside of the front line.
Co-trainer Paul Court said Terror To Love is a definite Cup starter.
"We have to line up for the ace draw," said Court. "And that will give us our chance to get one back."
Court was disappointed in his stable star but not Ricky May's drive. "Ricky moved at the right time to get parked but the horse was a little disappointing."
First emergency Sleepy Tripp looks certain to get a start as the connections of Mah Sish have indicated they are unlikely to return to Auckland after a lengthy Australian summer campaign.
Meanwhile, unbeaten superstar filly Adore Me faces a massive task in the Woodlands Derby on Friday after drawing wide on the second line.
She won her way into the race with a staggering demolition job of her fellow fillies in the Pascoes Northern Oaks last Friday, prompting trainer Mark Purdon to accept for the Derby.
Adore Me will have to give gun colts Ohoka Punter (6), Franco Nelson (4) and her own stablemate Border Control (1) a decent start.
That will see her drift from her opening quote to maybe even lose favouritism to either Franco Nelson or Ohoka Punter. The tactical battle early will be fascinating, with both Franco Nelson and Ohoka Punter leading throughout to win their preludes last Friday night, but Franco Nelson appearing a better horse when driven with a sit.
The Derby is one of the four major races on Friday night, which as well as the Cup, includes the Young Guns final for the juvenile fillies and colts.
$250,000 Auckland Trotting Cup, mobile, 2700m.- Terror To Love (1), Easy On The Eye (2) Pembrook Benny (3), Tyler Maguire (4), Fly Like An Eagle (5), Highview Tommy (6), Sleepy Tripp (7), I'm Themightyquinn (8), Jarcaullembra (9), Franco Ledger (10), I'm Victorious (11), Mah Sish (12), Gold Ace (13), Bettor Cover Lover (14), Lets Elope (15). Emgs: Sleepy Tripp, Tyler Maguire.
$250,000 Woodlands Derby, mobile, 2700m.- Border Control (1), Ida Tiger (2), Mossdale Connor (3), Franco Nelson (4), Cillas Boy (5), Ohoka Punter (6), Cyamach (7), Classiesistar (8), Five Card Draw (9), Robyns Raider (10), The Bucket List (11), Norvic Nightowl (12), Royal Mach (13), Adore Me (14). Emg: Ida Tiger.