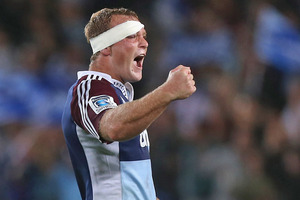 Nothing about the Bulls will surprise the Blues as they prepare for their first Super 15 challenge from South Africa.
They know the visitors will bring a narrow bludgeoning formula to Eden Park on Sunday backed by Morne Steyn's territorial and goalkicking radar.
That method has allowed the Bulls to nail three titles in the only competition triumphs for teams from the Republic.
Blues coach John Kirwan and his staff yesterday began studying clips of the Bulls this season and working out approaches to combat and challenge the men from the high veldt.
"This will be a very different game of football from the two games we have played against the New Zealand sides," said Kirwan.
"We have a similar philosophy where we all want to play exciting footy and put a lot of running into our play but this match will be a really tough and different kind of game I'm sure."
The Bulls have begun with successive wins of varying standards at home against the Stormers and Force. They were convincing in the derby but then sloppy in awkward conditions against the Force.
Now they set off on a rugged road trip to play the Blues, Crusaders, Reds and Brumbies in successive weeks.
By contrast, this is the Blues' last game in an opening three-match sequence before they have a bye.
They have emerged without any great damage although Peter Saili's repeat foot injury and facial damage for Luke Braid may affect selection.
Kirwan and his selectors will have to balance what is best for the team momentum, the opposition style and some of the players' welfare.
"The Bulls are big on forward-orientated rugby with Steyn getting them down there," he said.
"They try and play a bit more footy than they used to but when you have the accuracy of Steyn and the drive of Pierre Spies, you have a confident rugby team who know how to strangle football teams."
Messages for the Blues will be about repeating the sort of discipline they brought against the Crusaders with and without possession.
This week will be a different experience for the Blues as they can watch the rest of the games before they play the final match of the round with a late Sunday afternoon kickoff.
That unusual 4.05pm start is to assist the television broadcasting deals in South Africa especially.
It is like the changing scene at the Blues where chief executive Andy Dalton and chairman Gary Whetton dropped into the media box before the Crusaders match to wish reporters well for the season.
Victory against the Crusaders meant it was the first season since 2008 the Blues have begun with successive wins.
A growing warmth towards the commitment of the players and work of the staff mixed in with some Friday night entertainment delivered a crowd of 31,014 to Eden Park.
That figure may be challenged on Sunday, depending on the weather and conflicting events.