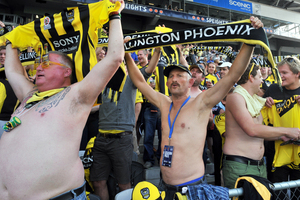 The first victory in a month was too much for Wellington Phoenix owner Gareth Morgan, who couldn't help but join in the Nix fans' unique celebration - stripping.
The Yellow Fever traditionally remove their shirts if the team are winning with 10 minutes left to play.
It's been a long time between celebrations so this was extra special, coming after a traumatic week that featured the resignation of long-serving coach Ricki Herbert and a midweek loss to Newcastle.
But last night, the Phoenix rebounded with a 1-0 win over the Melbourne Heart at Dunedin's Forsyth Barr Stadium.