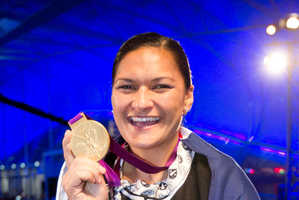 Aucklanders have a chance to see Valerie Adams in action today.
The Olympic gold medalist will take part in a competition called Shot in the City, at The Cloud on Queens Wharf this afternoon.
Auckland Council is putting $30,000 into the one-off event.
Mayor Len Brown says the competition not only allows locals to see an international athlete in her prime, but will also give people a chance to give shot put a go.
Between 10am and midday the public will be able to have a go, while the main competition takes place at 4pm.